Hobart 770890 Welding Helmet 2021 – Tested Review
BestWeldingHelmets.net is reader supported. If you click a link on this page, then go on to make a purchase, we might receive a commission at no cost to you.
Last Updated: November 2, 2022 by Louis Sham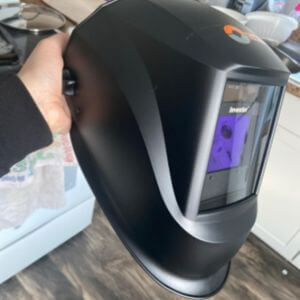 If you have ever welded a piece of metal then you must know how important it is to wear safety gear during the welding process, like safety goggles. But with time things have changed, now instead of goggles, there are welding helmets available in the market that gives you more protection with other features as well.
Hobart 770890 welding helmet is one of the safety helmets that you can wear and protect your eyes from harmful sparks and flashes. All thanks to its auto-darkening lens! Not only this but it is also equipped with several other features.
Hobart 770890 Welding Helmet Review
Specifications:
Viewing Area: 9.3 sq. inches
Weight: 1.25 pounds
Reaction time: 1/25,000 seconds or 0.00004 seconds
Shade range: 3-9-13
Sensor: 4 arc sensor
Material: polyamide nylon
Grind mode
A delay control and sensitivity control
Auto on/off
Knob for adjusting delay time and sensitivity
Pros
Easy to adjust
Auto darkening helmet
With extra cover lenses
Cane be used with a magnifying cheater lens
Cons
Lacks outside adjustment knob
Who is Hobart?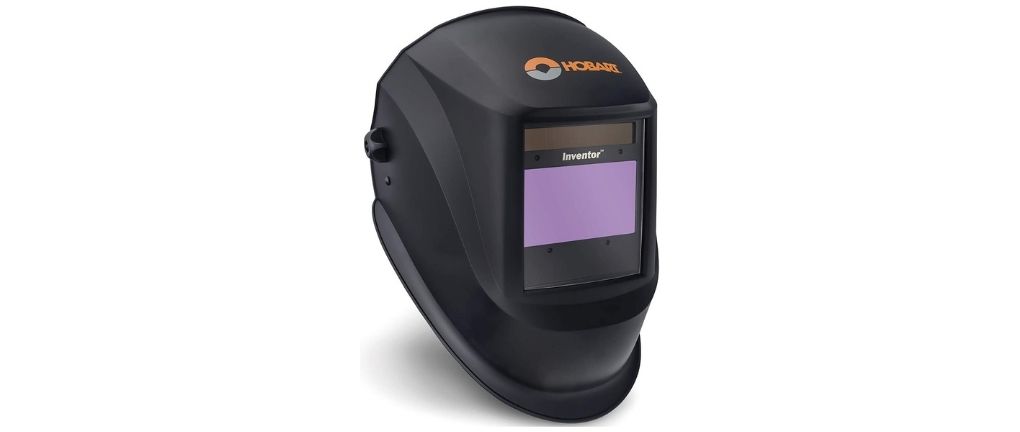 Hobart is one of the well-known manufacturers of a full line of welding and cutting products. It has been on the market since 1917 but in 2000 they have stepped into welding helmet manufacturing. Their strong and dedicated research and development team manufacture auto-darkening helmets with state-of-the-art graphics. Hobart 770890 welding helmet is known as the inventor series Hobart helmet. Come and let's know something about it!
Hobart 770890 Welding Helmet Design:
Inventor 770890 welding helmet is has a nice matte finish which looks really very appealing. The Hood is made up of polyamide nylon and that's the reason it is soo light in weight. Besides being light in weight it is flexible as well. Hobart 770890 auto darkening welding helmet is ergonomically designed to fit on every kind of head size.
For adjustment purposes, there is headgear inside the hood which is very comfortable. You will notice that on the headgears there are soft headbands that give you a superior comfort level. At the back, tightening ratchets are also there which can be easily handled even when you are wearing gloves.
Related: Instapark GX 500s Welding Helmet Review 2021
Viewing Screen: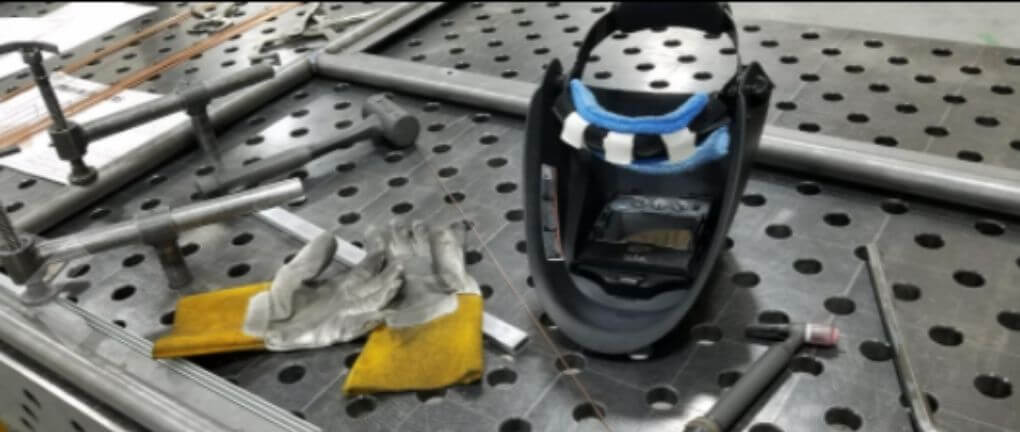 Hobart 770890 has a quite big viewing screen at the front that will enable the user to have proper look at your in-process work.  The lens is 3.95″ x 2.36″ in dimension which is quite big. If you compare the Hobart 770890 helmet with the other welding helmet of the same price range, you will be amazed to know that it has a comparatively wider viewing screen plus more features than the other welding helmets.
Auto Darkening Feature: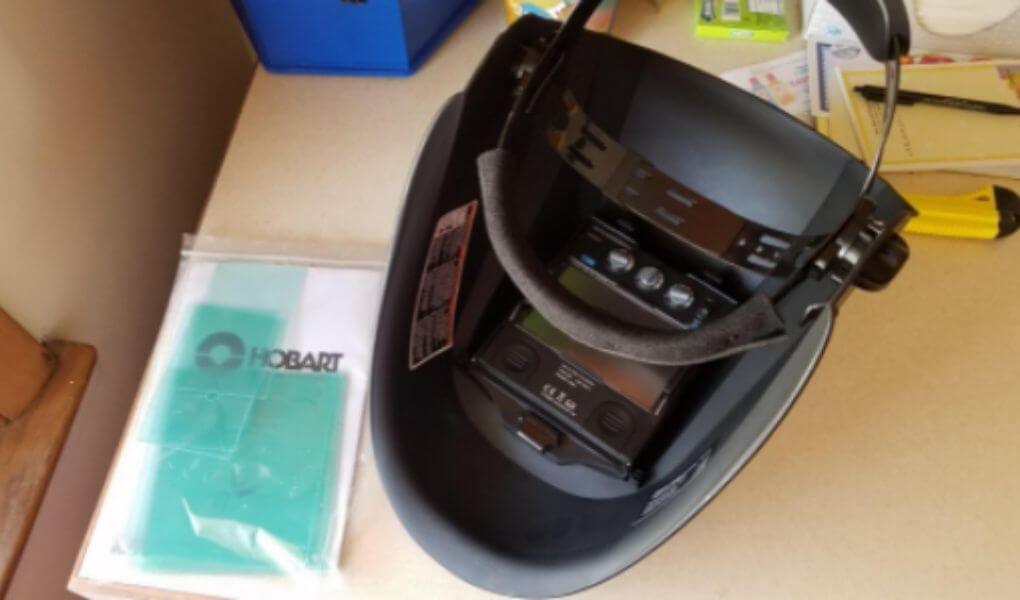 On the viewing screen, 4 arc sensors detect any spark or flash and darken the view in 1/25,000 seconds, which is very fast. This is the auto-darkening feature of the Hobart 770890. These arc sensors are truly there for the safety of the user. They will protect your eyes and face from harmful UV radiations that emit during the different welding processes.
Control Pad:
Like every other welding helmet, there is a controlling pad inside the helmet which is of analog style. With the help of this analog-style control pad, you can set delay control, sensitivity control, and shade ranges.
Hobart 770890 Welding Helmet Shade Range:
It can be used for different welding processes which include low amperage TIG welding as well, so for this purpose, there are the different shade that ranges from 3 – 9 till 13. Low shade ranges are quite appropriate for TIG welding. There is no harm in saying that the Hobart 770890 welding helmet is one of the versatile welding helmets.
Guide: How to adjust auto darkening welding helmet 2021
Grind Mode:
When it comes to versatility, we always look for products that can be used for various jobs. Hobart will never disappoint you in such a case. The inverter welding helmet can be used for grinding purposes as well. For this purpose, the manufacturer has incorporated a special feature of grind mode which you can switch on from its control pad. Actually, grind mode avoids the darkening of the screen during work so that operator can focus deeply on its grinding job. And the best of all is, it has an indicator light that will keep blinking when you turn on the grinding mode. This blinking light is there just to keep you reminded that you are using grinding mode.
Hobart 770890 Welding Helmet Safety:
Welding is a process that emits high intensity of UV or IR radiations that may cause irreversible damage to the eyes and skin. So a welding helmet should be such that protects the user from the harmful effects of radiation. Fortunately, it provides excellent safety levels to the user along with enhanced comfort.
It has a decent lens with an auto-darkening feature that gives a high level of protection. Also, it is quite light in weight so you will not suffer from head and shoulder strain. Hobart 770890 is a perfect choice for professional and passionate welders.
Related: Hobart 770756 Welding Helmet Review 2021
Hobart 770890 welding helmet can be used for:
Hobart inventor 770890 welding helmet can be used for grinding purposes as well.  Besides this, you can wear this protective helmet while doing different types of welding processes which include: MIG/MAG, TIG/TAG, FCAW, and MMA
What I Like:
Well, when you unbox Hobart 770890 welding helmet you will find a few extra replacement covers. Out of which 4 are external covers whereas three are regular inside covers. Since lens covers are prone to scratch that's why the manufacturer has already provided them. Personally, I like this strategy. It will simply give peace of mind to users. Apart from this, it has an outstanding auto-darkening feature that quickly darkens the shade as soon as the arc sensor detects any weld glare.
What I do not Like:
Upon testing the Hobart inverter 770890 welding helmet I realized that all the settings knobs are situated at the inside of the hood. There isn't any knob outside the hood like grind mode or shade range setting. This is not a big flaw but you will have to take off the helmet whenever you need to change some settings.
Summary:
Hobart 770890 welding helmet is a great combination of safety, performance, and style along with fair price value. If you compare it with other helmets of the same price category, I bet you, you won't find such amazing features in other helmets. It is neatly designed with outstanding quality and durability. Hobart 770890 offers great protection to your eyes, face with superior comfort, which is the basic purpose of any welding helmet. Trust me; it is worth your single penny.
My Name is Louis with a welding experience of 9 years in all types of welding processes. Especially I have good expertise in MIG, TIG & Arc welding processes. Read more about me….