Instapark GX 500S Welding Helmet Review 2022
BestWeldingHelmets.net is reader supported. If you click a link on this page, then go on to make a purchase, we might receive a commission at no cost to you.
Last Updated: February 14, 2022 by Louis Sham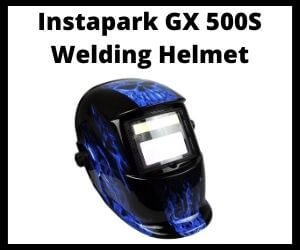 Tired of those boring black welding helmet? Then check out Instapark GX 500S Welding Helmet, one of the funky and colorful welding helmets.
It does not look like a traditional welding helmet that comes in black or grey color.
Rather, Instapark has a cool digital hawk printed on all over the helmet, which makes it quite different from the others.
Instapark is the hub of solar digital powered goods, which include welding helmets, solar-powered batteries, and many other things. It's one of the globally emerging brands, that focuses on high-quality products.
Talking about this colorful welding helmet of Instapark, it gives excellent performance with outstanding visibility.
Let's know more about Instapark GX 500s welding helmet.
Instapark GX 500S Welding Helmet Review
As an affiliate, we earn from qualifying purchases. We get commissions for purchases made through links in this post.
Specifications:
Viewing Area: 3.63 X 1.65 inches
Weight: 1.6 pounds
Optical clarity: 1/2/1/3
reaction time: 1/25,000 second
Shade range: 4 -9-13
Sensor: 2 arc sensor
Material: polyamide-nylon
Operating mode: weld grind
Adjustable sensitivity and delay control
Solar and battery operated
With low voltage indicator
ANSI Z87.1+, CSA Z94.3 AS/NZS standards compliant
Pros
Highly responsive welding helmet
Can be used for grinding as well
Attractive colors and decals
Outstanding customer service
Instapark GX 500S Appearance: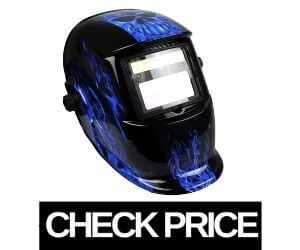 First and the foremost thing that I want to discuss is its appearance, I am truly in love with its bright and colorful decals. It looks way better than the other traditional helmet.
Instapark GX 500S has a black base on which you will find blue lines along with digitally printed hawk. Since hawk is the sign of higher vision that may be required in completing any task, so it means Instapark promises to give you outstanding visibility so that you can complete your job more efficiently and professionally.
Hood is made up of high resistant polyamide-nylon, which is extremely light in weight. GX 500S weighs only 1.6 pounds which means you won't gonna feel if there is something on your head or not.
Also, the material is wear and flame resistant. In short, it will be going to last forever.
Viewing Area:
Most important part of the welding helmet is the viewing area which gives you access to see your work station. Viewing area of GX 500S is around 3.63 x 1.65 inches, which is way too big. You can clearly see in your surrounding via this viewing window.
Viewing window is equipped with an auto-darkening filter or lens which you can say is the heart of the welding helmet. This auto-darkening filter works with the help of arc sensors that are located outside the viewing area.
Unlike other welding helmets, Instapark GX 500S welding helmet has only 2 arc sensors. Best part is, even with 2 arc sensors it gives amazing performance.
With the help of these arc sensors the ADF filter switches from light to dark shade automatically within 1/25000th of seconds. This way your eyes are 110% protected from the harmful rays.
Instapark GX 500S Shade Adjustment:
ADF of Instapark GX 500S welding helmet has a variable shade range which varies from 5/9 and 9/13. If you need more darkness right after the arc is struck so you can choose dark state shade which is 9-13, otherwise, 5-13 is quite appropriate. When the helmet is on the resting mode it is on shade 4 by default.
Related: Sellstrom S26200 Welding Helmet Review 2021
Optical Clarity:
Optical clarity is one of the most important aspects that determine the clarity of vision. It eliminates the chances of blurred vision and distorted image. Instapark GX- 500S has an optical clarity rating of 1/2/1/3, which is above the average but not the best
Frankly speaking, the optical clarity rating of 1/1/1/1 is considered as best. But this does not mean at all that Instapark GX 500S is not worth buying. Its optical clarity is not that much clear as other helmets that rate 1/1/1/1 has, but yes, you won't be facing any kind of clarity issues in GX 500S.
Instapark GX 500S Welding Helmet is used for:
Instapark GX 500S welding helmet can be used for various processes of welding, which include stick welding, MMA, MIG, and TIG welding application.
Besides welding, it is of great use in grinding applications. It gives complete coverage to your face and neck so that no flying metal pieces will harm you at all. All you have to do is to switch on its grinding mode so that you can work more efficiently.
Guide: How to charge welding helmets 2021
What I Like:
Though it has 2 arc sensors yet it is quite a responsive welding helmet. I really like this fact about it. Unlike other welding helmets, it doesn't have a bunch of arc sensors, only two arc sensors are enough for optimal performance.
I personally like its colorful and bright decals. This makes it different from the other helmets in the market.
Test mode is also one of the admirable features of Instapark GX 500S which lets you check the helmet before starting the actual job.
What I don't Like:
Upon going through the customer feedback I got to know that people are happy with its performance but quite sad with its headbands. The adjustable headbands are quite terrible and flimsy. You need to tighten it up too tightly in order to move it up and down.
Another downside of Instapark GX 500S is, it does not come with replaceable batteries. But that's not a big problem at all as it is a solar-powered welding helmet that requires solar energy to be fueled up.
Summary:
Welding helmets that give outstanding visibility with the colorful exterior are hard to find. Instapark GX 500S is one of the welding helmets that feature an auto-darkening filter that has a variable shade range.
So you have the freedom to choose dark and light shade according to your choice. It not only performs well but gives complete protection to your eyes from harmful UV/ IR radiation. If you are a professional welder who works for a long hour then Instapark GX 500S welding helmet is the best choice for you.
My Name is Louis with a welding experience of 9 years in all types of welding processes. Especially I have good expertise in MIG, TIG & Arc welding processes. Read more about me….