Tekware WH009 Welding Helmet Review 2021
BestWeldingHelmets.net is reader supported. If you click a link on this page, then go on to make a purchase, we might receive a commission at no cost to you.
Last Updated: January 18, 2022 by Louis Sham
If you are in search of some unique and stylish welding helmets that are far different than the traditional welding helmet, then grab your hands on the Tekware WH009 Welding Helmet. It features a unique space troop shape along with an ultra-large viewing screen.
Tekware is a brand that is created by welders for welders. It is dedicated to providing high-end and top quality products that are suited for every welder.
Keeping in mind the needs of a welder, Tekware launches its super amazing welding helmet of spaceman series which is WH009.
Tekware Wh009 is packed with tons of amazing and unique features that you will like for sure.
Let's have a look on Tekware welding helmet review!
Tekware WH009 Welding Helmet Review
Specifications:
Viewing Area: 3.66 X 1.69 inches
Weight: 1.10 pounds
Optical clarity: 1/1/1/2
reaction time: ≤1/10,000 second
delay time: 0.1 – 0.8 S
Shade range: 4-5/9-9/13
Sensor: 4 premium arc sensor
Material: polypropylene
Operating mode: weld, cut and grind
Solar and battery operated
True color technology
Compatible with cheater lens/magnifying lens
Meets ANSI Z87.1-2010, EN 379 4/9-13, CSA Z94.3 standards
Pros
Ultra-large view gives better visual experience
Gives amazing eye protection
Lightweight and stylish look
Unique & Stylish Look: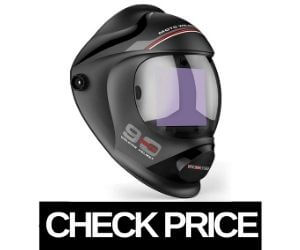 Now no more boring welding helmet.
Try the Tekware WH009 welding helmet, its shape is quite different from the other helmets. It looks like a spaceman helmet.
In addition to this, it has a unique hemispherical enclosure that adds more beauty to the helmet.
Hemispherical enclosure provides optimal protection to your face and eyes.
So your protection is cent percent guaranteed with Tekware WH009 welding helmet.
Apart from this, the hood is made up of polypropylene. Usually, professional grade welding helmets use polypropylene hood because polypropylene is fire-rated and gives amazing protection against welding sparks and spatter.
Ultra Large Viewing Area:
Tekware WH009 welding features an ultra-large viewing area that makes it easier for you to look around while wearing a helmet. The screen is made up of a double layer of liquid crystal which gives outstanding eyes protection.
4 arc sensors are located outside the viewing screen to detect any kind of spark or glare. These arc sensors are the real players for the auto-darkening filter.
Once they detect any spark the ADF quickly darkens the shade of lens in order to protect your eyes from harmful UV and IR radiations.
And you know what Tekware WH009 takes less than 1/10,000th of a second to darken the shade. This is super amazing. Indeed it is a highly responsive welding helmet.
True Color Technology:
ADF lens of the welding helmet is equipped with true color technology. With the help of this technology, you will experience the true color of your surrounding while wearing the welding helmet. This enhances your efficiency for sure. So you can enjoy crystal clear and crisp vision while welding, cutting, and grinding.
Tekware WH009 Optical Clarity:
Ideally, a welding helmet should possess an outstanding optical clarity rating.
Fortunately, the Tekware WH009 welding helmet possesses an optical clarity rating of 1/1/1/2 which reduces the chances of image distortion and gives crystal clear visibility.
Variable Shade Range:
Tekware WH009 welding helmet comes with a variable shade range that is 5/9 and 9/13.if you select 5/9 shade range 5 will be the lightest shades whereas 9 will be the dark shade that you will experience as soon as you start to weld.
When the helmet is on the resting stage, it is by default on shade 4.
To give superior protection to your eyes from UV/IR rays, there is a dedicated shade range for it that is DIN 16. You can activate this shade range when you are working on high amperage.
User Friendly Control Pad:
All the adjustment settings will be found inside the helmet. There are knobs for controlling sensitivity and delay time. You can operate your welding helmet with the help of this control panel. There isn't any setting option available outside the helmet.
Comfortable & Convenient:
Tekware welding helmet has a padded interior which gives you a high level of comfort.  There is an adjustable hear gear for adjusting according to your head and face size.
Since it is made up of high quality and lightweight material that's why it weighs only 1.10 pounds.
You will hardly find this much lightweight welding helmet.
Tekware WH009 is used for:
It would not be wrong if I say that the Tekware Wh009 welding helmet is one of the versatile welding helmets. Let me tell you why!
You can use it not only for welding but it can be wear during grinding and cutting. It provides complete coverage to your neck and face so that no flying metal piece will harm you at all.
When it comes to welding, it can be used for different welding processes, which include:
MIG/MAG
TIG/TAG
MMA
Plasma cutting
What I like:
I really like the design of this helmet. It looks quite unique and fashionable. If you are a professional welder, this design might stand you out in a group of welders. It looks cool! Isn't it?
Tekware focuses on the protection of its users that's why it has so many features to protect your eyes. First of all the glass material, which is made up of a double liquid crystal layer that gives maximum eye protection. Then comes the highly responsive auto-darkening lens, which protects your eyes from strain and fatigue during the welding process.
What I don't like:
I found it that Tekware WH009 has batteries of short life span and personally I think this is not at all a reason to reject it, as it has so many other brilliant and mind-blowing features that give a superior level of eye protection.
Final Verdict:
You will find many other cool and a unique design welding helmet, but the performance and safety that Tekware WH009 provides are hard to find.
With such amazing protection level and unique design, Tekware WH009 wins the heart of so many users. So if you are a passionate welder, who loves to collect cool welding helmets, the Tekware WH009 will not disappoint you at all. Mark my words!
My Name is Louis with a welding experience of 9 years in all types of welding processes. Especially I have good expertise in MIG, TIG & Arc welding processes. Read more about me….