Lincoln 1840 Welding Helmet Review 2021
BestWeldingHelmets.net is reader supported. If you click a link on this page, then go on to make a purchase, we might receive a commission at no cost to you.
Last Updated: February 14, 2022 by Louis Sham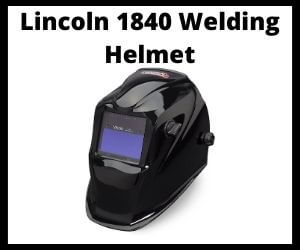 Without proper safety and precaution, any skillful job can be big trouble for you. Same goes for Welding and grinding. Wearing proper safety equipment can keep you protected from a big loss.
For this purpose, welding helmets are used to protect the face and eyes of welders from harmful UV and IR rays. You should not forget the flying sparks and metal chips during grinding. They are equally harmful.
If you are in search of an outstanding welding helmet, then we present the Lincoln 1840 Welding Helmet for you.
Lincoln 1840 welding helmet is amongst the top-rated welding helmet that has excellent customer reviews all over the internet.
It features a 4C lens technology which is known for excellent visibility and arc clarity.
What else does this amazing welding helmet has, let's scroll down to read Lincoln 1840 welding helmet review.
As an affiliate, we earn from qualifying purchases. We get commissions for purchases made through links in this post.
Lincoln 1840 Welding Helmet Review
Specifications:
Viewing Area: 3.74 X 1.38 inches
Weight: 532grams.
Optical clarity: 1/1/1/1
reaction time:1/25,000 second
Shade range: 9-13
Lens technology: 4C lens technology.
Sensor: 2 premium arc sensor
Material: polycarbonate and nylon
Operating mode: weld and grind
Solar-powered with replaceable lithium-ion batteries
Meets ANSI Z87.1-2010
Pros
Shows natural color
Comfortable swivel head gear
Light in weight
User-friendly interface
With grind mode
Unique & Attractive Appearance: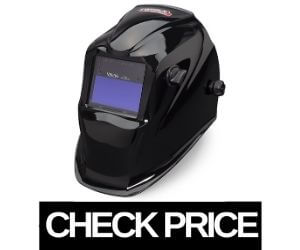 Lincoln 1840 welding helmet is quite different from the other welding helmet. Though it looks like a sophisticated welding helmet but its color is different.
It is available in two colors that are jet black and tribal which is maroon with some art on it.
Best part is, both of the colors are not matte at all. They are reflective and shiny. You can see your image clearly on the hood.
The front shield of Lincoln 1840 is bigger than the back shield. That's the reason it gives full coverage to your neck area as well.
Viewing Area & Auto Darkening Lens:
As far as the viewing area is concerned it is 3.74 X 1.38 inches big.
Honestly speaking it doesn't possess ultra-large viewing area as compared to other welding helmets. But yes it will give you outstanding clarity and visibility, which you will hardly find in any other welding helmet.
This much big viewing area is more than enough to focus on your work. You can easily watch what's going on in your surrounding without bending your neck.
Like other welding helmets, the viewing area has a special lens that protects your eyes from harmful rays, which is known as an auto-darkening lens or filter.
For the proper functioning of ADF, two arc sensors are located outside the viewing window. Though arc sensors are two in number but they are highly responsive.
4C Lens Technology:
The auto-darkening filter of Lincoln 1840 features an innovative and unique lens technology which is known as 4C lens technology.
This technology is simply amazing. You will experience the true and actual color of your surroundings.
Usually, the lens of other auto-dimming helmet shows the image with a green tint. But in Lincoln 1840, this is not the case.
This technology will show you the true color of arc and weld puddle with a slight blue tint, which feels like you are looking through the sunglasses.
Crystal clear visibility with natural color tone is extremely important for the perfect welding process. Lincoln 1840 welding helmet gives you this perfection.
Lincoln 1840 Optical Clarity:
Lincoln helmets are known for using technologically advanced features. Besides 4C technology, Lincoln 1840 welding helmet is equipped with one of the highest rating optical clarity of lens which is 1/1/1/1.
There are very few welding helmets in the market that uses this highest optical clarity rating. Lincoln 1840 is one of them.
Through this lens, you will have a clear vision without any blurriness and distortion.
So this deadly combination of 4C lens technology and highest optical clarity rating makes Lincoln 1840 one of the best welding helmet in the market.
Variable Welding Shade Range:
Auto darkening filter is equipped with multiple shade ranges. Such as 9-13. So when the arc detects any spark or glare it quickly darkens the shade of lens which is DIN 13. It requires only 0.00004 seconds to do so.
When the arc has been struck, the lens switches back to the light shade which is DIN9.
These shade ranges are the most important part of auto-darkening helmets. They are the actual player that protects your eyes from harmful rays.
User Friendly Control Pad:
Besides giving high performance and superior comfort, Lincoln 1840 features a user-friendly interface, which is so simple to use and understand.
Control pad is located inside the helmet, with options like delay and sensitivity adjustment, variable shade range, and grind mode.
Grind mode on/off button is also located outside the hood. This way you don't need to put off your helmet to turn on/off grind mode.
Rest of the features can be controlled by the control pad.
Related: Lincoln Viking 3350 Welding Helmet Review 2021
Lincoln 1840 Welding Helmet can be use for:
Welding is not only a sole option for which you can use the Lincoln 1840 welding helmet. It can be used for grinding purposes as well. There is a dedicated mode for grinding work.
When it comes to welding, it can be used for MMA, TIG, MIG, and plasma cutting as well.
Uses are unlimited with Lincoln 1840 welding helmet
WHAT DID I LIKE ABOUT LINCOLN 1840?
The worth mentioning point about LINCOLN 1840 is, it is extremely light in weight. it weighs only 532 grams, which is literally as light as feather. You won't even feel as if you are carrying something on the head. The cherry on the top is its comfortable and flexible headgear which is adjustable and gives superior comfort level. Swivel headgear is indeed a game-changer.
The visibility with Lincoln 1849 is excellent and it's all because of its 4C lens technology which you hardly find in any other brand of the welding helmet.
Indeed it's a perfect choice for perfectionist welders.
WHAT DIDN'T I LIKE ABOUT LINCOLN 1840?
A helmet with exceptional performance but with only 2 arc sensors. That's not at all justifiable. I don't know why the manufacturer has decided to keep 2 arc sensors. Whatever, these two arc sensors are quite responsive.
SUMMARY:
There are very few welding helmets in the market that gives better clarity with a real color view. Lincoln 1840 is one of them. Its outstanding and technologically advanced features stands it apart from other welding helmets of the same category.
Lincoln 1840 is known to improve visibility and reduces the chances of eye strains. It's a welding helmet that you won't regret buying.
So grab a one Lincoln 1840 welding helmet for you and increase your productivity.
My Name is Louis with a welding experience of 9 years in all types of welding processes. Especially I have good expertise in MIG, TIG & Arc welding processes. Read more about me….