Miller 280045 Welding Helmet Review 2022
BestWeldingHelmets.net is reader supported. If you click a link on this page, then go on to make a purchase, we might receive a commission at no cost to you.
Last Updated: March 27, 2022 by Louis Sham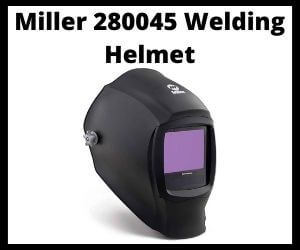 Do you think welding helmets are for welding only?
If you do so, then you are thinking wrong.
Some welding helmets in the market can be used for welding along with cutting and grinding purposes.
One such example is Miller 280045 Welding Helmet.
Miller digital infinity provides complete protections against weld sparks and dust and debris during cutting and grinding purposes. It completely covers your neck and face and protects you from all kinds of damage.
What else does it have? Check out our detailed miller 280045 welding helmet review.
Miller 280045 Welding Helmet Review
As an affiliate, we earn from qualifying purchases. We get commissions for purchases made through links in this post.
Specification:
Viewing Area: 13.4 sq. inches
Weight: 1.45 pounds
Switching speed: 1/20,000 seconds
Shade range: 5-8-13
Sensor: 4 arc sensor
Material: nylon
Operating mode: weld, cut, grind and X-mode

TIG

rating: 5 amp and below
Easy to use digital control
Delay control and sensitivity control
With 5 outside cover and 2 inside cover lens
With auto on/off feature
ANSI Z87.1+ and CSA compliant
Pros
Prevents eyes fatigue and strain
Quite large viewing area
Comfortable and easy to adjust
Four operating modes
Cons
Its lens is not compatible with other helmets
Who is Miller:
If you are in the welding profession for many years, then you must have heard the name of Miller.
Miller is one of the trustiest brands for providing safe Personal protective equipments, that you can fearlessly use during welding, cutting, and grinding.
You will find a vast range of welding helmets that include both passive helmets and auto-darkening helmets. And the best part is, its quality won't disappoint you at all.
Though miller welding helmet looks like other welding hoods but when it comes to performance and features, Miller is the winner.
ClearLight™ lens Technology:
Miller 280045 welding helmet feature a lens with amazing technology that is ClearLight™ Lens technology.
Since Miller has focused on the safety of users, that's why they have added ClearLight™ Lens technology that will protect your eyes from strain and fatigue.
Let me tell you in detail about this awesome technology.
ClearLight™ Lens technology actually allows the majority of the colors of the visible light spectrum to come through the lens so that you can have a natural and accurate color tone.
If you have noticed in the lens of other welding helmets that they normally give either blue or yellow artificial tint. This way you will not have a clear picture of the welding process, which ultimately causes eye fatigue.
With the help of ClearLight™ Lens technology, you will experience true color and contrast.
Not only this, ClearLight™ Lens technology minimizes light blockage as well. You know, the auto-darkening welding lens blocks light even when the welder is in resting state. But with ClearLight™ Lens technology a professional welder will experience a brighter light to focus more on their surroundings.
So with Miller 280045 welding helmet, your eyes protection is guaranteed. Plus, you will have a crystal clear and accurate color tone of your surroundings.
Miller 280045 Viewing Area:
Miller 280045 is equipped with one of the largest viewing area.
Yes, you read it right!
Miller digital infinity has 13.4 square. inches of the viewing area, which gives you a complete view of your work station.
Now you don't have to bend in an awkward way to look through the small viewing window. Miller digital infinity has got the largest viewing window in the industry.
On the viewing area, you will find 4 well-positioned arc sensors that are of extreme importance for auto-darkening lens features.
These arc sensors quickly sense any flash or spark during arc welding and within 1/20,000 seconds they darken the shade.
Guide: How to change battery in welding helmet
Four Work Modes:
If you are looking for a versatile welding helmet that can be used for other purposes too, then miller digital infinity is the right option for you.
Miller 280045 welding helmet is not only used for welding purposes, but you can also wear this helmet while grinding also.
You must be thinking, what's new in it, almost every other welding helmet can be used for grinding and welding.
Wait!
Miller 280045 welding helmet can also be used for cutting purposes as well.
So be it cutting, grinding, or welding, it will provide complete coverage to your neck and face, so that you can work without any fear.
Interestingly, it has 4 working modes, weld, cut, grind, and X-mode.
X-mode senses the weld electromagnetically in order to prevent sunlight interference, this way lens will not dark before the welding starts. X-mode continuously detects the arc even if the sensors are blocked.
Digital Control Pad:
Miller 280045 welding helmet features an intuitive digital control pad that you will inside the helmet. With the help of this control panel, you can easily choose your desired shade range depending upon the job that you want to do.
Not only this, but delay and sensitivity adjustments will also be in your control. You can adjust them according to your choice using this user-friendly digital control pad.
Related: Dekopro Welding Helmet Review 2021
What's More!
There is a lot more to discuss miller digital infinity welding helmet.
It features a redesigned headgear which is far more comfortable than your imagination. You won't even feel as if you are carrying something on your head.  It also features oversized comfort cushions which give the next level of comfort to the user. They are really very easy to adjust. Thanks to its three-level slide adjustment system.
Besides this, it is made up of polyamide nylon which is flexible and shock-resistant. Not only this, but it also weighs too light that is 1.45 pounds.
Moreover, it has compliant with the safety standards of CSA and ANSI Z87.1 + which assures you that this helmet will give you the ultimate level of protection during grinding, cutting, and welding job.
What I like:
ClearLight Lens technology is the top-most feature that I like about miller digital infinity. This technology gives a true reflection of eye protection. It helps welder by showing them the exact color tone.
In addition to this, its 13.4 sq. inches large viewing area is its competitive edge. Very few helmets in the industry feature big viewing are and Miller has beaten all those by featuring extra-large viewing area.
What I don't like:
Sadly, the lens filter is not compatible with other welding helmets not even with other models of the same brand. So you have to handle your miller digital infinity with great care because if its hood gets damage, your auto-darkening filter lens will automatically become useless.
Summary:
Miller 280045 welding helmet is a true blend of versatility, technology, and durability. From ClearLight Lens Technology to the slide type adjustment straps, perfection oozes out from every edge.
It provides complete coverage and gives the ultimate level of protection and comfort.
Indeed it's the best choice for those professionals who looks for a versatile and multi-purpose welding helmet.
My Name is Louis with a welding experience of 9 years in all types of welding processes. Especially I have good expertise in MIG, TIG & Arc welding processes. Read more about me….