Esab Sentinel A50 Welding Helmet Review 2021 – Specs, Pros & Cons
BestWeldingHelmets.net is reader supported. If you click a link on this page, then go on to make a purchase, we might receive a commission at no cost to you.
Last Updated: January 18, 2022 by Louis Sham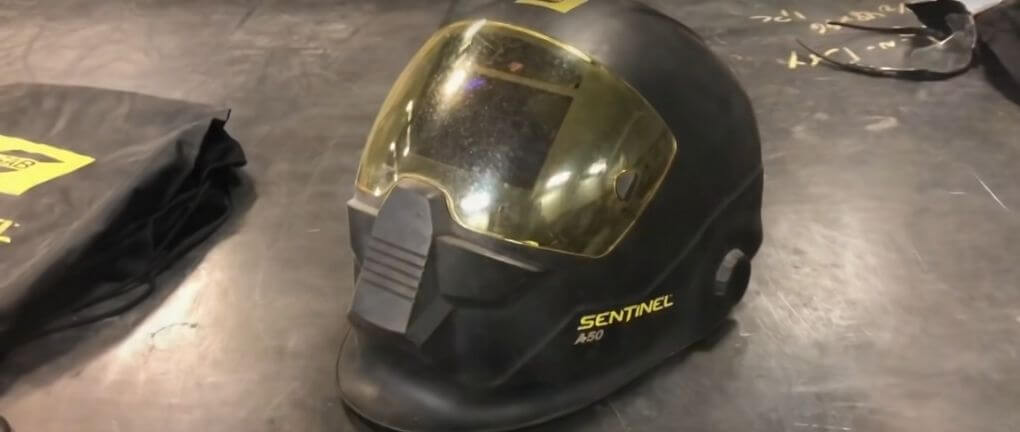 ESAB Sentinel A50 is a high-tech welding helmet designed for professional welders who keep comfort-ability at the top of the list. With the high-quality lens and large viewing part, it gives you exceptional clarity so that you can keep a strict eye on arc puddles. When it comes to the features of the ESAB Sentinel A50 Welding Helmet wins the race as it has super amazing and mesmerizing features. That's the reason we have decided to write a detailed review after different live tests of ESAB 0700000800 Sentinel A50 Welding Helmet.
Esab Sentinel A50 Welding Helmet Review 2021
Specifications:
Viewing Area: 3.93 X 2.36 inches
Weight: 1.2 pounds
Optical clarity rating: 1/1/1/2
Power supply: Solar cell
Auto-darkening time: 1/25,000 seconds
Shade range: 5 to 13
Sensor: 4 arc sensor
Material: Nylon
Touch screen LCD
Who is ESAB?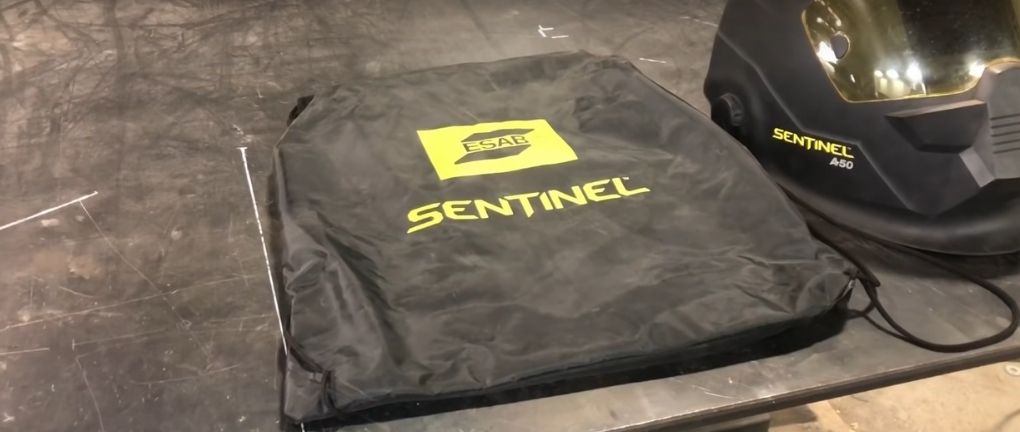 ESAB is a renowned and trusted company for manufacturing different welding supplies, which include stick welding electrodes and welding helmets. Esab is dedicated to providing superior comfort and safety to its users, represented by the Sentinel A50 welding helmet. Sentinel A50 has lots of mesmerizing features that would compel you to get your hands on this helmet.
Esab Sentinel A50 Design:
The design of the ESAB 0700000800 Sentinel A50 Welding Helmet is quite different from the other welding helmets. It has a space trooper kind of look, which I feel is quite cool and unique. Personally speaking, I like its design. Besides this, the material that has been used in its construction is very nice. It is made up of high-impact nylon.
The best part is, the shell is quite flexible. It means you can wedge your head in a tight corner, and I assure you, it will flex a little bit, instead of just knocking off on your head and I am saying after testing it. The Control panel is innovatively designed and instead of knobs for controlling different parameters, you will find an LCD touch screen. The touch screen is very simple and easy to use. Some people find it difficult to use while wearing gloves. But I don't think it would be that much difficult.
Esab Sentinel A50 Comfort:
The Comfort level of the welding helmet is paramount as professional welders wear it for long hours. So welding helmets should be pretty much comfortable. When it comes to comfort ESAB A50 welding helmet stands out. It features 3 Halo™ headgears that are ergonomically designed to fit any head size. You don't have to worry if you have a big head size, it can be easily adjusted on your head. With 5 adjustable headgear points, professional welders have infinite freedom to adjust it according to their head size.
Adding more into its comfort-related features, it weighs very light that is only 1.2 pounds, you will be reluctant either you are wearing anything on your head or not. When you wear the A50 welding helmet you will not get a collard all the time. You will have enough space to look around.
Related: 3M Speedglas welding helmet review 2021
Lens Performance:
Let me tell you, ESAB Sentinel A50 welding helmet is one of the best auto-darkening helmets. It will darken quickly if in case there is any flash or spark that occurs in front of the helmet. This way it will protect your eyes from permanent damage.
The true color lens has a viewing area of 3.93 x 2.93 inches. Honestly speaking, the viewing area is a bit smaller but it is sufficient enough to focus on your welding process accurately. As far as the optical clarity rating is concerned, it is 1/1/1/2 which is not the highest rating but not the worst though.  You can have a crystal clear image of the weld puddle.
Talking about the shade range, this is starting from 5 till 13. So those welders who love to work on dark shades will truly like the A50 welding helmet. So the ESAB 0700000800 Sentinel A50 Welding Helmet gives exceptional vision clarity with blue weld color, which makes it easier for you to focus on your work without any damage.
Multipurpose:
ESAB is known for versatility and that's the reason the A50 welding helmet is one of the versatile welding helmets. It can not only be used for welding purposes but you can also use it for grinding purposes as well. So for this purpose, ESAB has created a quick access Grinding button that is there at the top of the helmet.
Those people who find it difficult to operate touch screen LCD with gloves; can switch on the grinding mode by simply pressing the button. And you know what, to remind you about grinding mode. There is a blinking light on the touch screen control panel. This way you won't forget that you are in grinding mode and accidentally harm yourself.
Also Read: How to test an auto darkening welding helmet
Pros
It can be used for grinding as well
User-friendly LCD touch screen
Adjustable 5 point headgear
Different preset memories for quick setting change
Cons
Little bit pricey
Viewing area is a bit small
WHAT ELSE!
Well, Sentinel A50 has 8 preset memory settings that are there for quick and easy setup. You won't have to waste your precious time in settings parameters according to your preference. You can choose from the 8 preset memory settings. ESAB Sentinel welding helmet has a power source of lithium-ion batteries which are backed up by solar power. Furthermore, you will get this helmet with 3 years of warranty. If in case you feel some problem with its lens or control panel you can get its warranty claimed. But make sure it should be within 3 years of purchase.
Related: Best Passive Welding Helmet Reviews 2021
What's in BOX?
Well upon purchasing this super cool welding helmet, you will get a standard size helmet bag that is meant for storing helmet when it's not in use for a long time. Besides this, you will get:
Some clear inner lenses
A welder man hat
Few outer clear lenses are tinted yellow and transparent white.
And of course, the hood.
What did I like:
ESAB A50 welding helmet has mind-blowing features and comfortability. It is a multipurpose welding helmet that can be sued for grinding as well. But the best thing is, its grinding button is situated outside the hood. You can access it easily. The touch screen LCD panel is a plus point. I would say it's quite an innovative idea to incorporate touch screen panels in welding helmets. This way you will get rid of adjustments knobs that are quite cumbersome.
What I didn't like:
ESAB A50 welding helmet is a true example of perfection with no flaw at all. The 2 flaws that I found are it's a bit pricey as compared to other helmets of the same category and they need to increase the viewing area a bit more. But trust me; its features justify its price. You won't regret buying it.
Conclusion:
ESAB Sentinel A50 welding helmet is a cool and unique welding helmet and it's because of its space trooper kind of design.  Its comfort level is far beyond your imaginations. So if you are in search of a perfect and genuinely comfortable welding helmet then grab your hands on an A50 welding helmet. You will enjoy working while wearing it.
My Name is Louis with a welding experience of 9 years in all types of welding processes. Especially I have good expertise in MIG, TIG & Arc welding processes. Read more about me….