Antra AH6 260 0000 Welding Helmet Review 2022 – Pros & Cons
BestWeldingHelmets.net is reader supported. If you click a link on this page, then go on to make a purchase, we might receive a commission at no cost to you.
Last Updated: February 16, 2022 by Louis Sham
If you are looking for a versatile welding helmet then Antra has something very useful for you. Antra AH6 260 0000 Welding Helmet can be used for grinding and cutting applications other than welding jobs. It is a newly launched welding helmet that promises to give you immense protection and comfort during tiring and tough welding operations. Welding is a process that emits different UV radiations which cause irreversible damage to your vision. But if you wear a proper welding helmet, then it's not dangerous at all.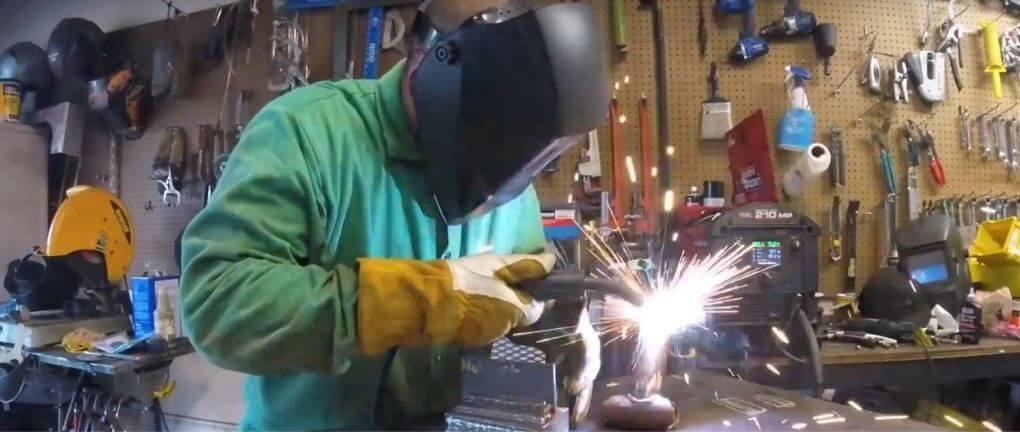 Antra welding helmet is one of the best welding helmets that feature an auto-darkening lens, which protects your eyes from weld glares and sparks. What else does this versatile welding helmet has, let's have a look at Antra Ah6 260-000 welding helmet review which is a result of live testing.
Antra AH6 260 0000 Welding Helmet Review 2022
As an affiliate, we earn from qualifying purchases. We get commissions for purchases made through links in this post.
Specifications:
Viewing Area: 3.86 x 1.73 inches
Weight: 435 gm
Optical clarity rating: 1/1/1/2
Battery type: Solar cell +1X CR2450
Auto-darkening time: 1/25,000 seconds or 0.00004 seconds
Shade range: 4/5-9/9-13
Sensor: 4 Arc sensors
Material: Polyamide-nylon
Knob for adjusting delay time and sensitivity
Pros
Ultra-light in weight
Can be used for grinding, cutting and welding applications
Compatible with other lenses like a magnifying lens
Cons
The adjustment knob is a bit fragile
Some words about Antra:
Antra is famous for manufacturing high-end welding safety gears which includes welding helmets as well. They have a wide range of welding helmets that provide a superior level of safety and comfort to the user. Talking about the performance of Antra's Welding helmet, it's truly amazing. You will hardly find any bad customer reviews about their welding helmet. One of the worth mentioning characteristics of Antra welding helmets is, they all are compliant with major safety standards that include ANSI Z87.1 and CSA Z94.3.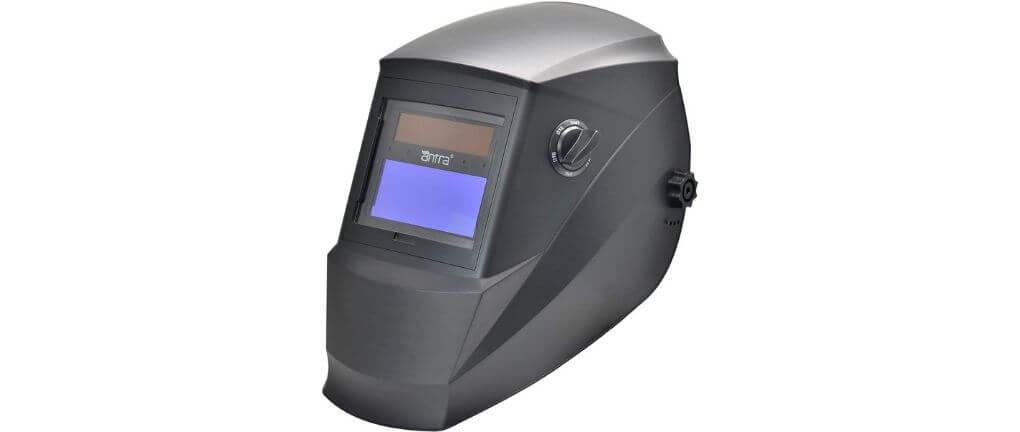 Antra AH6 260 Appearance:
Antra ah6-260-0000 auto-darkening welding helmet looks like a typical welding helmet with a viewing area of 3.86 x 1.73 inches. It is made up of high-impact polyamide nylon and that's why it is ultra-light in weight that is only 435 grams. It makes the Antra AH6 welding helmet a perfect choice for professional welders who work for long hours. Above the viewing area, there are 4 sensors that are the main part of its auto-darkening function.
On the outer side of the helmet, there is a knob that is meant for shade adjustment. If you take a look at its inside view, it has a control pad that has adjustments knobs for adjusting delay and sensitivity. Anta AH6-260-000 has dimensions of 9 x9 x 12 inches, which means it can be easily placed in any compact space.
Related: Best Welding Helmets for Women in 2021
Auto Darkening Technology: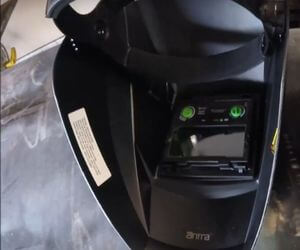 Antra Welding Helmet has an impressive auto-darkening technology. All thanks to its 4 sensors that are there at the top of the viewing window. Interestingly these sensors are controlled by the smart chip. With the help of these sensors, the helmet becomes highly responsive to glares and sparks that are produced during different welding operations.
As soon as the sensors sense any spark or flash, it quickly darkens the view so that your eyes will remain protected from any strain. You will be surprised to know that this switching process requires only 0.0004 seconds. In a blink of any eye, it will switch the shade from light to dark. Antra AH6 260 000 requires only 0.1 – 1.0 seconds for switching from dark to light shade.
Related: True Color Welding Helmet of 2021
Antra AH6 260 0000 Lens Performance: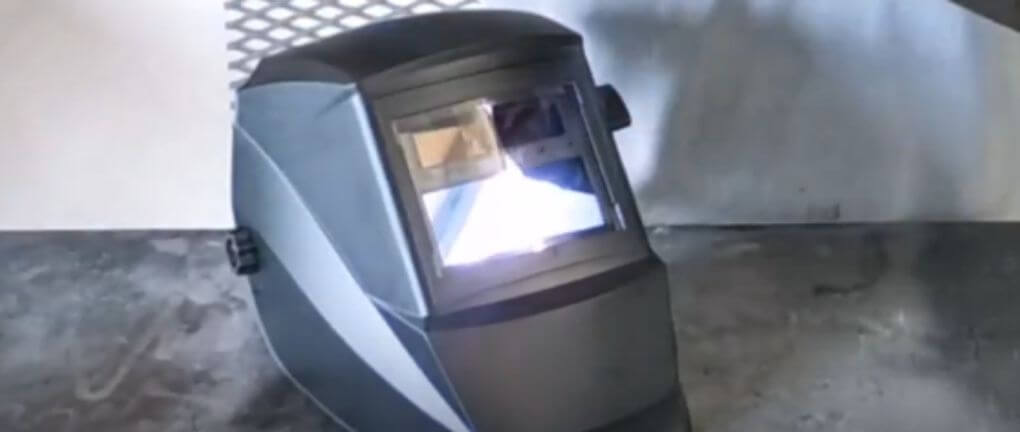 The lens of Antra AH6 260-000 is pretty wide and gives crystal clear vision. It features UV and IR filter that works even when without power. When you go through its specifications you will see it has an optical clarity rating of 1/1/1/2 which gives outstanding clarity.  This way you can have a good and clear view of your process without putting yourself in an awkward posture.
The worth mentioning feature of the Antra welding helmet is, its lens is completely replaceable. You can replace them with other cheaper lenses. And if you want to have deep detail of your welding process you can even use a magnifying lens.
By default, the helmet is equipped with a large magnifying glass. This way you can have an efficient and excellent job done. Let me mention to you, Antra AH6 welding helmet can be used for various other welding processes that's why it has a shade range of 4/5-9/9-13. Depending upon the type of welding process you can choose the shade range to protect your eyes from any damage.
Guide: How to change the battery in a welding helmet
Sensitivity & Delay Knobs:
The Control panel of the helmet has two knobs that are there at the inside of the helmet. One knob is for adjusting sensitivity whereas the other one is for adjusting delay time.
Technically speaking, the sensitivity control is for adjusting the brightness level following the environment. The sensitivity control feature is quite useful especially when you are welding at low amperage. Since the Antra AH6 welding helmet can be used for the Low DC TIG welding process so sensitivity feature is literally valuable for it.
As far as the delay feature is concerned, you have the freedom to adjust the delay setting with the help of its knob. This delay control basically controls the time for the lens to stay dark even after ending the welding process. With the Antra welding helmet, you got the freedom to customize the setting according to your welding process.  It's impressive, right?
Antra AH6 Versatile Helmet:
Versatility is the actual reason for being a highly demanded welding helmet. You can use this helmet in doing multiple jobs which include cutting and grinding as well. So welding is not the limit for Antra Ah6 260-000 welding helmet. Even it can be used for different welding operations which include:
TIG/TAG(TUNGSTEN INERT/ARC GAS)
MIG/MAG( METAL INERT/ACTIVE GAS)
FCAW(Flux core arc welding)
MMA(MANUAL METAL ARC WELDING)
Enhanced Comfort & Safety:
Let me add some words related to the safety and comfort level of the Antra AH6 welding helmet. This is quite light in weight which means you will not suffer from any kind of shoulder or neck strain. It comes with adjustable headgear that can be adjusted according to the head size of the user. Weight is the most important factor in terms of comfortability and Antra AH6-260-000 welding wins in the ground of weight. It is immensely light in weight. So no matter how long your job is, AH6-260-000 will give you a superior level of comfort.
But comfort is not only the thing that you should consider but there is also an important feature too that is called safety. Welding helmets are used to protect your eyes, face, and head from sparks and UV flashes which are really very harmful. So Antra welding helmet gives you complete protection against weld glares as it provides full face and neck coverage. In short, Antra AH6-260-000 gives you a superior level of comfort with enhanced safety that is way too crucial for welding, cutting, and grinding applications.
Related: Antra Ah7 860 001X Welding Helmet Review 2021
What did I like:
It's really very hard to decide, as it is loaded with tons of mesmerizing features. If you ask me, I like its material and weight. It's made up of such light and durable material that it weighs didn't even a kilogram. It will not be wrong if I say that Antra welding helmet is as light as feather. The second thing that I like about it is its versatility. You have the freedom to use it either for welding, grinding, or cutting applications. There is no boundary for its usage.
What I didn't like:
Upon testing the helmet deeply, I came to know that its adjustable knobs are quite flimsy. But trust me; that's not a big issue at all as long as the helmet is used by a single person, because a single owner knows how to handle it carefully.
Conclusion:
Antra Ah6 260-000 is a perfect blend of comfort, versatility, and incredible performance. It's an outstanding product that is designed to protect you from everything and anything. It's a low-priced welding helmet that can easily fit into your pocket. Indeed it's perfect for DIY enthusiasts and hobbyists.
My Name is Louis with a welding experience of 9 years in all types of welding processes. Especially I have good expertise in MIG, TIG & Arc welding processes. Read more about me….