True Color Welding Helmet 2021 – Best Color Lens
BestWeldingHelmets.net is reader supported. If you click a link on this page, then go on to make a purchase, we might receive a commission at no cost to you.
Last Updated: January 18, 2022 by Louis Sham
Welding is not a walk in the park. You can have all the necessary electrical appliances for the work but at the end of the day. You will be having some pain in your neck or head – thanks to the hood nod. During the welding process, the welder gets what he wants to join into position, and once the gun is in position. You have to nod your head so that the helmet can fall into place.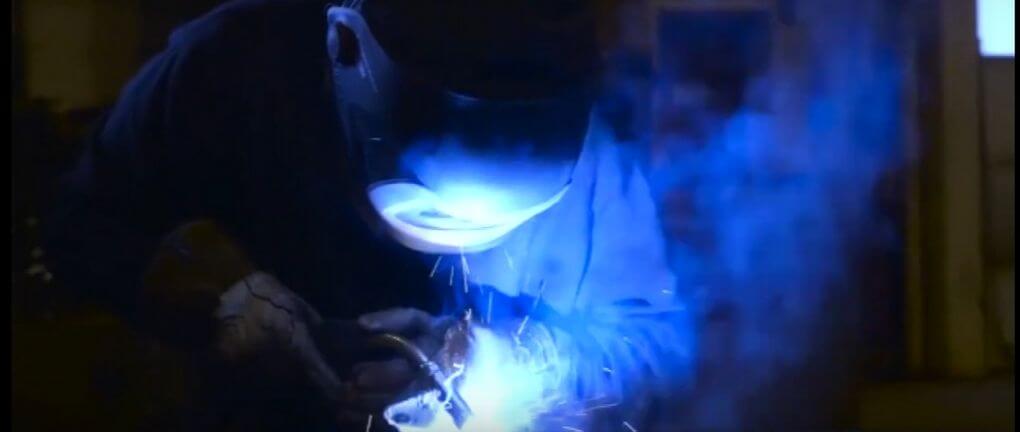 All credits go to the advancement in technology. Now it is possible to get your work done without removing the helmet or nodding your head for the mask to fall into place.
True Color Welding Helmet 2021
With the True Color Welding Helmet, as a welder, you can see what you are joining in real-time. You can see how the weld pool melts and how the joint is formed correctly. Unlike the auto-dimming filters, which, although you can see what you are working on. The color fades away, and you can only see green. But the auto-darkening helmets have since evolved, and it is now possible to see more colors than just green.
True color welding helmet offers you a clear vision, just like when you look out via the window pane. It is crystal clear, but at the same time, it offers your eyes the right protection from the bright light. The true color is like looking through a window with clear glass, and even in a dark place, you can clearly see the details of everything in high contrast.
Arrangement of Welding Lenses:
Auto-dimming filters work under the principle of polarization. Polarization works by blocking the light waves, thus making it look darker. When the light turns black, the polarization orientation directs the light at a perpendicular angle to the filters on the lens. The lens of the ADF helmet works in a cross-polarization manner whereby there are two polarizers in the glass. Which are crossed at 90 degrees, and they help to block all the light.
When the light in high voltage is applied to the liquid crystals, the molecules move and rearrange themselves in specific ways. How they rearrange themselves is determined by the intensity of the light that falls on them. A light that is produced by the arc flash is not safe, and therefore the ADF lens has IR and UV radiation filters that move to prevent all harmful radiations from reaching your eyes. For this reason, even if you experience a power blackout, you can be sure that your eyes are well-protected.
Besides that layer, there is also another layer of liquid crystal layers. This layer is the one that makes the ADF be automatic in its function. When the arc flash is detected by the sensors. They trigger a message to be sent from the battery of the helmet to the liquid crystal layers, which in turn twist the light to the darkness. This brings about the auto-darkening effect on your helmet lens immediately; the arc flash is sensed.
Welding in True Color:
The most essential function of the welding helmet is to protect the eyes and face of the welder from harmful radiations and bright light. Some of the harmful wavelengths that your eyes will be protected from include infrared, UV, blue, and excessive bright light. But how can a lens prevent light and other harmful radiations from reaching the eyes while at the same time allowing the true colors that you are working on to be clearly seen? The lens is designed in such a way that it will enable a narrow array of light to pass through. Peak allows first the green and yellow wavelengths to pass through. This is what happens on the ordinary auto-darkening filter.
After these wavelengths have passed through, the narrow peak on the lens decreases towards zero. Thus allowing blue and purple wavelengths to pass through, which are typical with the UV rays? Then red and orange wavelengths are allowed to pass through which are towards the IR. This arrangement of wavelengths allows more colors to pass through the welding lens but. At the same time protecting harmful wavelengths from passing through, thus offering the much-needed protection.
Through such an arrangement, the welder can see all the colors of what you are working on. Also, the lens is made in such a way that even if you are not working on an arc. You can leave the helmet on your head, and you can still see clearly without experiencing any strain on your eyes. This is possible because the lenses are arranged in such a way that some light wavelengths are reflected while the rest passes through. There are many true color helmets in the market today, but in this write-up, we are going to review the Tekware Best True Color Welding Helmet. Read the detailed true color welding helmet review.
Related: 3 Best Welding Helmets for Women in 2021
Tekware – Best True Color Welding Helmet 2021
Tekware is a self darkening welding helmet that comes with real color ability. It is equipped with an extra big viewing lens and different viewing angles. Which allows you to see your working area without moving your head. There are double liquid crystal layers that prevent harmful bright light from passing through. The layers can protect against the light for up to 8 hours or more of welding.
Auto-dimming filters of the Tekware welding helmet switch from light to darkness within 1/10000 seconds to protect your eyes from bright light. Also, in case of a power failure, your eyes will be protected against harmful UV and IR radiation.
Tekware welding helmet is powered by the solar that, when an arc flash is detected, sends enough power, which will help to darken the lens. Besides that, there are highly sensitive probes that allow sending a signal which instantly darkens the lens whenever the light is detected. There are also lens shades that range from 9 to 13, which effectively block that protect your eyes against arc flashes.
Tekware also has lithium batteries that are charged by the solar. The dry cells help to prolong the life span of the helmet. Also, the batteries help to conserve energy. Which can be used in case of a power failure. This welding helmet is very comfortable, and it comes with an adjustable gear that helps you to fit the mask comfortably.
Tekware helmet is versatile in its use. You can use it for professional and personal welding applications. Moreover, it can be used in construction sites, automotive industries, mining, repair and operation, gas transportation to mention just but a few. While testing we found it is very lightweight, and you can wear it for a long time without feeling any weight. It also has a sleek design so you can use it in a narrow space comfortably.
SPECIFICATIONS: 
Item Weight is 2.2 pounds
3 x 9.8 x 9.5 inches dimension
Lithium Ion Battery Type
Comes in only X1 color
Auto-dimming filters
Pros
Solar-powered
Ultra-large viewing area
Adjustable lens shade
4 C lens technology
Grinding mode
Cons
Available in only black color
Final Verdict:
Thus, all the specifications and everything has been mentioned for you to see if this helmet does works for you according to your needs to finalize the Best True Color Welding Helmet. This has all that a good helmet can provide other than it only comes in one color that is also a bearable thing. It's comfortable and an easy to carry Welding helmet. If you wish to know about any welding helmets let us know in the comments section and we will come up with a detailed review.
My Name is Louis with a welding experience of 9 years in all types of welding processes. Especially I have good expertise in MIG, TIG & Arc welding processes. Read more about me….