Sellstrom S26200 Welding Helmet Review 2022
BestWeldingHelmets.net is reader supported. If you click a link on this page, then go on to make a purchase, we might receive a commission at no cost to you.
Last Updated: February 14, 2022 by Louis Sham
Sellstrom is the brand that strikes the mind first when you want peace of mind in the workplace. A 100 years old American brand that is dedicated to manufacturing high-end safety products that can be used for welding purposes. Sellstrom S26200 is one of the most selling welding helmets of Sellstrom that meets the safety standards of ANSI and CSA.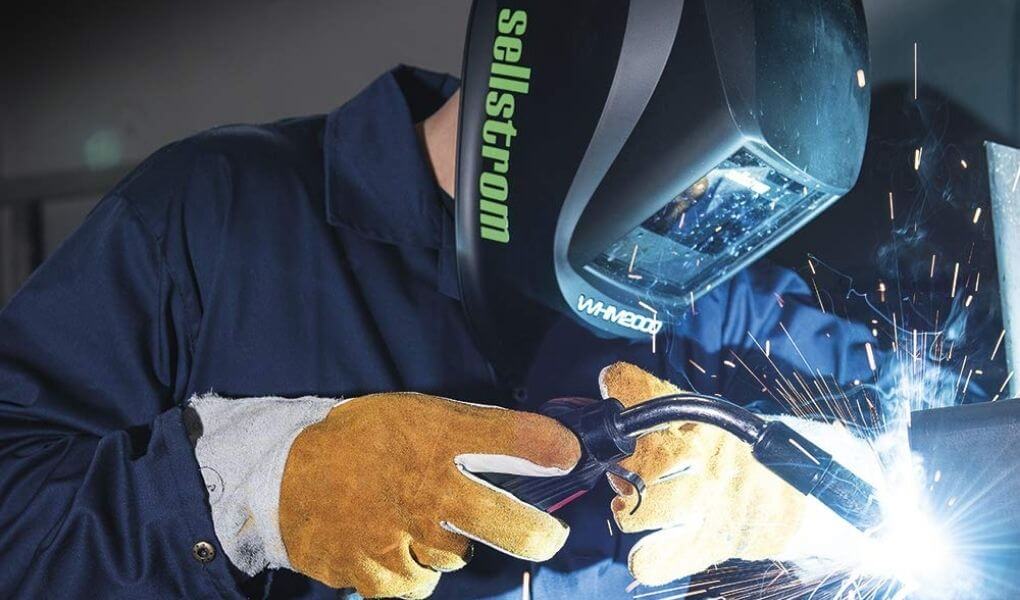 S26200 is ergonomically designed to give your head and neck complete protection. It is loaded with mind-blowing features that protect you during the welding or grinding process. If you are looking to buy the Sellstrom S26200 welding helmet, Read this review, it will surely help you!
Sellstrom S26200 Welding Helmet Review
As an affiliate, we earn from qualifying purchases. We get commissions for purchases made through links in this post.
Specifications:
Viewing Area: 2 x 4 inches
Weight: 2 pounds
Optical clarity: 1/1/1/2
Shade range: 4/9-13
Sensor: 4 arc sensor
Material: nylon
Operating mode: weld and cut
Adjustable sensitivity and delay control
Solar and battery operated
ANSI Z87.1+ and CSA and CE compliant
Pros
Perfect for grind and weld
Lightweight
Can be used for MIG/TIG and stick application
Safety certified
Self Dimming Helmet:
Sellstrom S26200 lies amongst the best auto-darkening helmet. It features 4 sensors that are located beneath the viewing window. These sensors sense any arc and within a split of a second, they quickly darken the view, so that your eyes will remain protected. Besides this, it features a 2 x 4 inches big viewing area, with the help of which you can view your workstation easily. So you don't have to turn your head.
Like every other welding helmet, the viewing window has an auto-darkening filter that has variable shades. The shade ranges from 4 to 13. You have full freedom to choose your desired level of darkness. Plus, the auto-darkening filter has amazing optical clarity which is of 1/1/1/2 rating. With the help of this exceptional optical clarity, you can see the true color tone of your surroundings. So you don't need to lift your helmet up to see. This is indeed a great approach to save time and increase your productivity.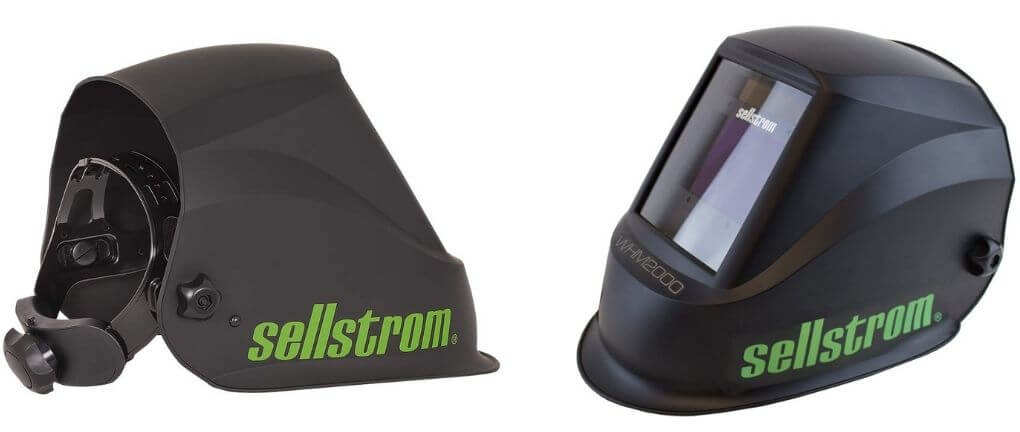 Adjustable Sensitivity & Delay Control:
Sellstrom welding helmet features adjustable sensitivity and delays control function. These features are extremely important from the welders' perspective. The delay control feature will let you adjust the speed to slow down or speed up both the initiation of the arc and the ending of it for smoother deactivation of ADF shade.
As far as the sensitivity control feature of the Sellstrom welding helmet is concerned, it is one of the protective features. It will determine the amount of light required to activate the auto-darkening filter of the helmet. The more powerful the source of light is, the darker will be the lens when it detects the light. So this way it will protect your eyes from any kind of strain and fatigue.
Multipurpose:
When it comes to versatility Sellstrom S26200 wins the battle. It is one of the versatile welding helmets that can be used for various purposes. You can not only wear it during the welding process but it can also be worn during grinding concrete and tiles. It will keep you protected from small flying metal pieces.
When it comes to welding, you can wear it during different welding process which includes TIG, MIG, and stick welding. In all these processes, you will feel completely protected. You can fearlessly do your work while wearing the Sellstrom S26200 welding helmet.
Related: 14 Types of Welding Processes
Sellstrom S26200 Welding Helmet Design:
I really like the way it is designed. It is extremely light in weight it weighs only 2 pounds, probably it is because of the material that has been used in its construction that is nylon. Also, it gives full coverage to your face and neck, which means not even a spark will gonna harm you.
The Sellstrom welding helmet is designed to be used with a cartridge respirator. Usually in basic welding of iron or steel fumes are produced that are quite harmful to the lungs. So for this purpose, it is recommended to wear cartridge respirators while welding. Unfortunately, it becomes difficult to wear a welding helmet and cartridge respirators at the same time. But few helmets have such design that can accommodate respirators. Sellstrom S26200 is one of them.
Sellstrom S26200 is exceptionally comfortable in wearing you won't even feel you are wearing something on your head. So no matter how long your welding or grinding process may be, you won't feel any stress in your neck or shoulder. This is not the end, there is still more to talk about the Sellstrom welding helmet.
Its mind-blowing ADF filter is removable. This means if someday your helmet gets damaged you can install its ADF filter in other welding helmet hoods. So this way it will save your money. While using it for rigorous tests we found its interior very user-friendly, and easy to use control panel, with the help of which you can adjust sensitivity and delay control feature. Not only this, the shade range can be chosen from this control pad.
What's good about it:
Sellstrom has got safety approval and hence it is an ANSI Z87.1 and CSA certified welding helmet. Therefore, you can fearlessly wear this helmet during the welding or grinding process as it will keep you protected from any kind of harm. You can even wear it for a long time and the best part is, you won't even feel it. It is so comfortable in wearing plus it is light in weight.
What's bad in it:
Honestly speaking it has all those amazing features which are part of any welding helmet. But to be honest it is quite expensive. I don't know why it is priced so high. Maybe it's the quality of the helmet or brand name. But it is the best option if you are looking for a multipurpose and versatile welding helmet. Though it's a bit pricey, but I assure you, you won't regret buying it!
Final Verdict:
Welding helmets are one of the most important personal protective equipment that one has to wear while welding. Luckily, the Sellstrom S26200 welding helmet is so comfortable in wearing that it won't even bother you. It's a combination of durability and amazing feature, which will increase your productivity plus, you will enjoy working with it.
My Name is Louis with a welding experience of 9 years in all types of welding processes. Especially I have good expertise in MIG, TIG & Arc welding processes. Read more about me….