How to Adjust Auto Darkening Welding Helmet 2021
BestWeldingHelmets.net is reader supported. If you click a link on this page, then go on to make a purchase, we might receive a commission at no cost to you.
Last Updated: November 9, 2021 by Louis Sham
For a welder to successfully carry out his task, he must be aware of the auto darkening welding helmet settings. With the knowledge of how to adjust auto-darkening welding helmets, it can be easier to make the best use of it. During welding, the most essential tool is to carry an auto-darkening welding helmet. Along with providing an adequate amount of safety and protection, auto darkening welding helmets also fulfill the need for other precautions that are required during welding.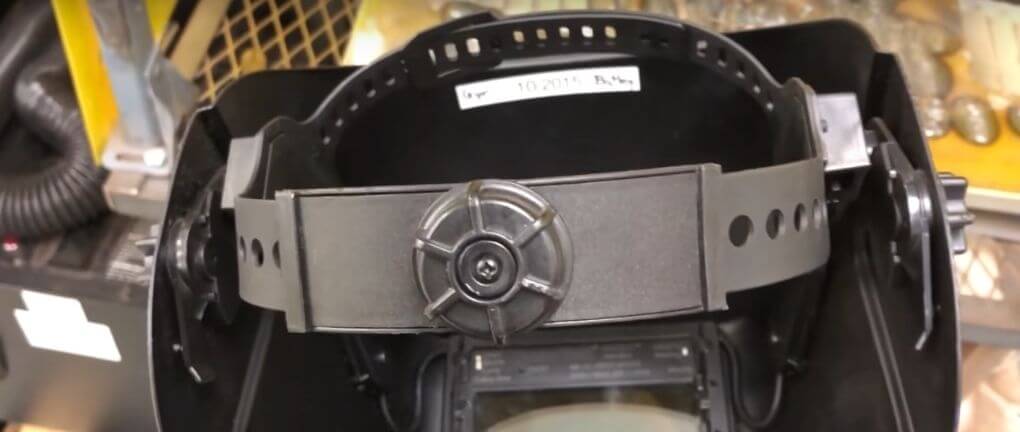 Normally, the settings of auto darkening welding helmets include fitting, shade, sensitivity, and delay adjustment. All of which accounts for the optimization of a welder's safety. Hence, it is important to understand auto darkening welding helmet settings before the welding process. Adjusting your welding helmet is a crucial task regardless of whichever level you are; beginner or professional. Through this guide, you will uncover the various ways and details of how to adjust auto darkening welding helmets.
How to Adjust Welding Helmet
Let us head on to the details of adjusting the auto-darkening welding helmet settings to achieve their best performance!
1. Suitable Fitting:
Most of the auto darkening welding helmets come with the adjustable fit feature. Each welder should have a welding helmet with a perfect grip to carry out the welding procedure with confidence. Although the overall structure or the fitting of the auto-darkening welding helmet cannot be altered. However, welding helmets enable the welders to tighten or loosen to achieve the desired and comfortable fit.
Attainment of a suitable fitting will add to a welder's benefit. It would help avoid the helmet falling off during the welding process along with reducing too much strain or fatigue caused after the welding process.
2. Sensitivity Level:
The sensitivity feature is the most vital in auto darkening welding helmet settings. It decides how much light is filtered from a welding helmet. Based on the various welding processes, the light requirement varies and demand assistance from sensitivity controls. Generally, the welding processes call for a mid-range sensitivity setting. So for beginners, it is advised to keep the sensitivity levels about 50% before initiating to weld.
Related: Best Welding Helmets with Respirator in 2021
Steps to Change the Sensitivity Settings:
Before making new changes you need to first reset the previous settings off in an auto darkening welding helmet.
In the next step, you ensure that your helmet is adjusted on the minimum light source.
Since the lens was adjusted on the least level now you may allow some source of light to fall on the lens to acclimate its sensitivity.
Continue adjusting its sensitivity until the point you are satisfied with a clear vision.
For enhanced results, you must adjust high sensitivity, so that even slight flashes could be detected.
Overall, the pre-programmed auto darkening welding helmet settings work perfectly for most welders. However, in case you want some changes in your welding helmet, refer to the instruction manual that comes with it to work best!
Related: Welding Safety Tips 2021
3. Reaction Time and Delay:
Another important feature that adjusts the lenses of your auto darkening welding helmet as per the light within the surroundings is reaction time and delay. Time taken to adjust the lenses depends upon these settings. For instance, lower settings indicate a quick reaction time whereas higher settings indicate a slow reaction time. Just like other features, reaction time and delay also vary according to personal preferences and they may change due to:
Personal reaction and delay time
Place of the welding process
Kind of welding process
Total time required
Recommended reaction time is between 0.25 – 0.8 seconds. So, if the reaction time goes below 0.25 seconds, it will be considered too fast and if it goes beyond 0.8 seconds it will be considered too slow. These conditions will help signify whether the auto darkening welding helmet is reliable and durable in the end or not.
Related: How to Weld Cast Iron 2021
4. Adjustable Shade Controls:
Knowing which shade is required for a specific work area and how to adjust the shade to the desired level is also very important while working with auto darkening welding helmets. Amps and the process intensity are the two factors that decide the range and level of the shade. Usually, it ranges from level nine to thirteen; nine being the lightest shade while thirteen being the darkest.
Working in a non-critical environment, you can make use of shade nine. However, industrial welding processes require work to be done using spectrum thirteen. Since this is the darkest shade, so it provides maximum protection for your eyes.
In case you do not know the shade of the lens you are working with, you can always go into the settings and adjust the lens shade to the maximum level because it is better to be safe than sorry. Moreover, the welding environment and scale of your welds decide further the choice of lens shade to be used. It is also the first thing a welder should be aware of to safeguard their eyes and before laying your hands on the welding work.
Related: Tekware WH009 Welding Helmet Reviews 2021
5. Grind Mode Method:
Multi-purpose auto-darkening welding helmets can be used for many industrial activities except welding too. For this condition, you must switch the mode from welding to grind mode. Usually, on the right side, you can switch these modes. However, while doing so you should also be aware of the fact that on grind mode the helmet provides zero eye protection, as the lens does not darken. Therefore, you must turn back the grind mode to weld mode.
Guide: How to Test Auto-Darkening Welding Helmet
Final Verdict:
Auto-darkening welding helmet settings require a lot of trial and error before knowing the best working settings. Hence, it may seem like the most crucial task to do. However, knowledge regarding how to adjust Auto Darkening Welding Helmet will eventually provide you with a great advantage.
You can easily adjust it according to your preferences and need by having a customizable and flexible approach to your welding helmet. Moreover, using this knowledge you can easily spare yourself some time and increase your safety and productivity for sure!
Usually, most welding helmets come with the instruction manual to refer to in case of any queries about adjusting your welding helmet settings. Therefore, you can reach the optimum level of performance from your welding helmet by making use of every detail provided to you. For a generalized overview of any kind of welding helmet, this article provides you information regarding the five settings that must be looked for before starting the welding process to make it successful.
My Name is Louis with a welding experience of 9 years in all types of welding processes. Especially I have good expertise in MIG, TIG & Arc welding processes. Read more about me….