How to Test Auto Darkening Welding Helmet 2021 -Step by Step Guide
BestWeldingHelmets.net is reader supported. If you click a link on this page, then go on to make a purchase, we might receive a commission at no cost to you.
Last Updated: November 2, 2022 by Louis Sham
Undoubtedly, auto darkening welding helmets are considered the latest rave in the market. As it is the only shield protecting you in the welding field so you need to be very vigilant before investing your money in it. Let us talk about how to test auto darkening welding helmets to make an educated decision. Either you are a hobby welder or a professional welder, it is equally important in both cases to examine your welding equipment fully first and then proceed to make the right choice.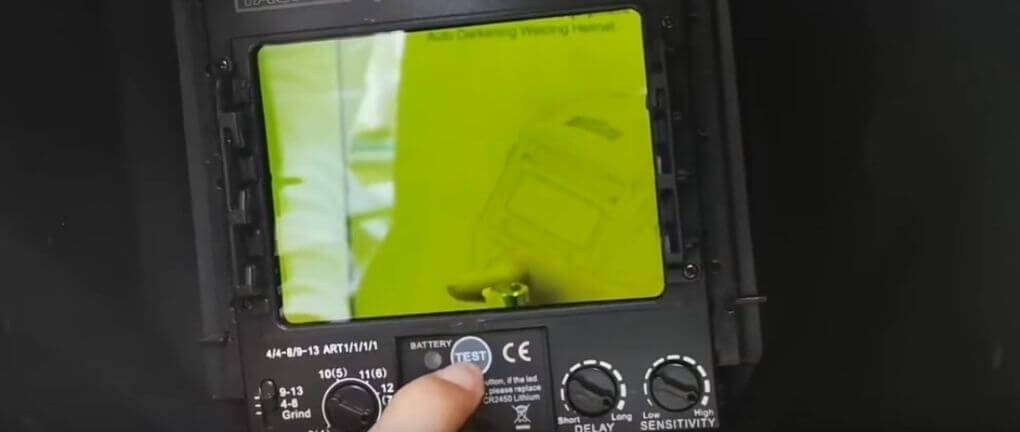 This article holds all the necessary information you need to know related to how to test an auto darkening welding helmet and how an auto darkening welding helmet works.
How to Test Auto Darkening Welding Helmet
Picking up the best auto-darkening welding helmet might be a tricky task. However, keeping in mind the following standards, you can make a smart choice at its earliest:
Clarity in vision
Optimum sensitivity
Delay control
Ample UV protection
Consumable batteries
Safety compliance
Adjustable lenses
Light-weighted
Multiple sensors
Positive sun test
Guide: How to change the battery in welding helmet – step by step
These are some key features that you can find in an efficient auto-darkening welding helmet. As there are different types of auto-darkening welding helmets, used for different purposes so your selection can differ from others. Therefore, it would be keener if you list down your priorities first before searching.
Exploring an auto-darkening welding helmet before purchasing one is very necessary. It tells you all about what that particular welding helmet is offering. Here are some tests that you can perform to analyze your welding helmet's productivity;
1. Visibility Test:
Visibility criteria are one of the many ways to test your welding helmet efficiency. During welding, the vision must be absolutely clear. An auto-darkening welding helmet shows different shades in light and dark environments, you must check their credibility in both phases. Since we are talking about testing the visibility of a welding helmet, you may examine its delay control option. This is a very crucial feature of auto-darkening welding helmets; it tells you for how long that welding helmet stays in its dark mode even after finishing your duty.
Read: 14 Different Types of Welding Processes
2. Test Drive The Sensors:
Sensors are those smart mini detectors that distinguish between the stray light source and welding arc flame. They help to protect your vision from any potentially harmful UV lights. Normally welding helmets come with a minimum of two types of sensors. While the helmets designed via advanced technology offer you four types of sensors to minimize all kinds of possible errors. Therefore, to test your welding helmet's capability, do not miss out on testing its sensors.
3. Sun Test:
Sun test is usually the easiest and quickest way to test for your auto-darkening welding helmet's productivity. It requires nothing but a slight exposure to the sun. If your welding helmet has all its features functioning perfectly, the lenses of the welding helmet should shade dark. However, if your helmet fails to darken upon the rays of the sun, then you urgently need to replace it.
Guide: Best Welding Schools in USA 2021
4. Weigh Your Helmet:
The theory about "the bigger the better" does not work in this case, here if you pick the bigger helmet it would be heavier too! Also, since you need to wear it all day while welding, so you cannot afford that much strain on your neck. Best quality welding helmets are always light weighed. Test them by wearing them if they are fitting your head. As you are constantly moving your neck while welding, choose comfortable helmets, and match your needs.
Related: How to Weld Cast Iron 2021
5. Look For Charging Sources:
Charging sources play their card in testing your auto-darkening welding helmet's reliability. Auto-darkening welding helmets are charged by either direct solar energy or by using power supplies. Consumable batteries are likely preferred more, as you can always store a charged backup battery for desperate times. However, in some cases, these batteries are fixed. In that situation, if your battery expires during work, you can face serious trouble. To avoid this obstacle always check whether it has a prolonged promising life.
Read: How to charge welding helmet – Detailed Guide of 2021
5. Adjustable Sensitivity:
To test whether you are purchasing a resourceful welding helmet or not, focus on its light sensitivity. The latest welding helmets have an interesting sensitivity control knob. You can adjust the brightness of the lens according to your need. You can test its sensitivity by noting the time it takes to switch from the original shade to darkened shade. Nevertheless, extremely sensitive welding helmets may confuse the welders.
Related: Welding Safety Tips 2021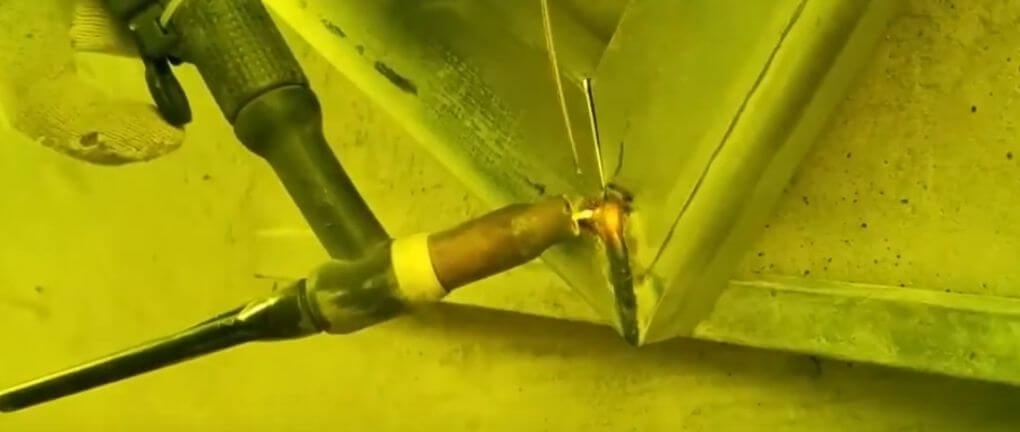 6. Variability In Lenses:
Since auto darkening welding helmets are used for multi-purpose. So you need adjustable lenses too. Go for those welding helmets that can work with a broad range of lenses, normally nine to thirteen is the range chosen for minor to major ventures. Being the most delicate part of welding helmets, these lenses require maximum attention. The clarity of the lens, light transmittance, unwanted scratches, and shade consistency are some key specifications needed to be checked before buying.
7. Warranty:
Last but not the least, the warranty of your welding helmet ultimately explains its industrial standards. You can test the durability and strength of your auto-darkening welding helmet by checking its warranty and reading the reviews of previously experienced welders and even on this site as well.
Tips To Consider:
Here are some general tips that you may consider to test an auto-darkening welding helmet:
Test-drive to check its performance
Should offer high definition visibility
Never compromise on the comfort – go for light-weighted helmets
Automatically darkens- profound sensitivity
Temperature resistant
Holds a range of lenses
Withstand a rough and tough environment
Prolong battery life
How Do Auto Darkening Welding Helmets Work:
You must have all the compulsory understanding about the working of the auto-darkening welding helmets. Due to its continuous working ability, one might think it can be complicated to handle, although it is quite opposite because this is exactly what makes it more valuable. These helmets help you work faster as the clarity of their lenses is appreciably high. Furthermore, they use a range of adjustable lenses so you can work in different environments with the same comfort. These lenses are usually in shades 3 to 14.
When working under the sun the lenses active shade 3 while when these lenses detect any other source of light they can switch to shade 9 or 13, which are much darker. Like this, they are adjusting the brightness to protect your eyes from any harmful UV or infrared rays.
Diving Into The Details:
In addition to these lenses, these auto-darkening welding helmets have interesting sensors too. Even an ordinary auto-darkening welding helmet would have two sensors while if you are using a modified/advanced type of helmet then you might find four of these sensors attached.
These sensors perform the same job as lenses, they detect any form of arm and sensitize the helmet window to protect your eyes from the radiations and heat from molten metal. Not only that but they can also auto on and off the welding helmet as per need. Moving on to the delay control button. It is there to maintain the dark mode of the helmet even when the work is done.
Now, why is this important? Because when you are done welding you do not realize that there is still some form of radiation being emitted from that melted metal which can cause serious harm. When you have finally finished working with all the safety measures this auto-darkening helmet was providing, it is time to clean the auto-darkening welding helmet and charge it, if required.
What To Do When Your Auto-Darkening Welding Helmet Stops Working:
If you encounter any slightest change in the workability of your auto-darkening welding helmet, just stop using it further. Figure out where is the problem. Once the issue is encountered you can always get to the nearest repairing shop and get it resolved.
To check what is the real problem test the adjustability of lenses, see whether the sensors are not desensitized; clean the helmet completely following the SOPs. Also, check out the batteries charge them if needed, or replace them with the stored consumable ones. However, in the case of fixed immovable batteries, if the batteries are out of charge then your helmet as a whole becomes useless and you need to replace it with a new one. Never compromise on your safety measures while welding.
Conclusion:
As every work demands a perfect tool with unique specifications to work with perfection, so does welding. Auto-darkening welding helmets have made this art of welding very exciting for welders. Its exclusive features are the reasons why is it so hyped today.
After reading the detailed guide about the working of an auto-darkening welding helmet and how to test an auto-darkening welding helmet now hopefully, you can decide what is right and matches your desires. Settling for something cheap might bring many risks. So always, prioritize your safety by investing in the best protective equipment.
My Name is Louis with a welding experience of 9 years in all types of welding processes. Especially I have good expertise in MIG, TIG & Arc welding processes. Read more about me….