How to Charge Welding Helmet 2021 – Solar & Auto Darkening
BestWeldingHelmets.net is reader supported. If you click a link on this page, then go on to make a purchase, we might receive a commission at no cost to you.
Last Updated: October 23, 2021 by Louis Sham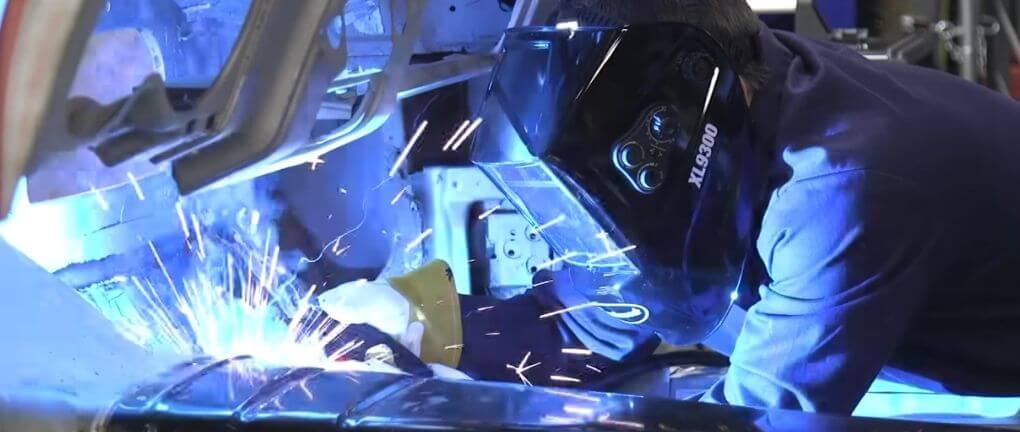 Welding can be very artistic and tempting to perform but if you are missing out on even one of the protective measures (to protect your eyes, face, and neck); you can push yourself towards the risk of serious injuries. A welding helmet is the most essential safety accessory that you must be wearing before having a kick-start. As far as a welding helmet is concerned, you may find a pool of variety for them but to decide which one is perfect, matching your needs, you need to focus on its charging capacities.
How to Charge Welding Helmet 2021
Although welding helmet charging may vary from type to type if you know how to charge your welding helmet, you can prolong their lives.
Before charging your welding helmet:
You should clearly be aware of your welding helmet's charging requirements. Some batteries take only a few hours to charge while others can take days too! Here is the basic sequence that can help you make this task more manageable:
Confirm whether the batteries actually require charging
Check for the essential items needed for charging
Let the welding helmet charge for desired time
Examine the welding helmet, once its charged
Never overcharge
Related: How to change the battery in a welding helmet
What kind of batteries are considered best regarding welding helmet charging?
Everyone knows that welding helmets with permanent batteries are quite outdated now. No one would want to spend money changing the helmets regularly that are not charging efficiently; therefore, in that case, helmets with rechargeable batteries serve as an easy solution. Purchase batteries that have a worthy warranty in order to have a loyal relationship with your welding helmets. Lithium ion batteries can be a good choice as their shelf life is long. Batteries for solar charging welding helmets and auto-darkening welding helmets are easy to charge too.
Read: How to test auto darkening welding helmet
Precautions while charging a Welding Helmet:
Avoid exposure with heat and moisture
The location should not be busy or should not impact any harm
Should be stored between 13⁰F – 120 ⁰F temperature
Voltage should be according to the requirement
Avoid overcharging or undercharging
Depending upon the age of your helmet and how often it is in use, the charging requirements can be concluded. Charging welding helmet batteries is an answerable job, which can be done accurately with proper skills, and understanding. Below are the details about two of the most commonly used welding helmet charging methods:
Related: How to adjust auto darkening welding helmet
Charging An Auto Darkening Welding Helmet:
Usually, charging your welding helmet does seem a little challenging. However, having command over time and management can tackle this tricky task. To learn how to charge your auto-darkening welding helmet, you must follow the succeeding given steps:
Step 1: Seal the helmet light detector using any masking tape. The basic concept behind covering the light detector is to avoid any source of light to hinder the process of charging.
Step 2: Now you need to check for your charging source. The charging source can be either a light bulb or a high-power lamp. Make sure that the wattage is not exceeding than 50 watts.
Step 3: Finally fix the distance between the light source and photovoltaic cell. You must set it at the required distance. Once all is secure you can leave it for charging.
The charging time may differ depending upon the condition of your helmet. How you have been using and storing it. In between charging, you can also check for whether it is charging or not by inserting a 3×5 card.
Related Info: What are the different types of Welding
Charging Solar Powered Welding Helmet:
Solar-powers welding helmets have been in use for ages now. Nevertheless, they have still considered strong competition in the market. However, how to be sure that you have a good quality solar helmet? That is where the charging feature of the welding helmet plays an important part in your decision.
Many people share the opinion that sunlight is the only energy source for charging these helmets. However, it is not entirely right! Solar-powered welding helmets carry batteries inside them, which can be charged using the arc and spark method too along with sunlight. These batteries consist of photovoltaic cells that store the necessary amount of energy from sunlight when working under the sun, and it is due to this reason why they are an economical choice for welders.
Related: Best Flip Front Welding Helmets of 2021
Additional Information Regarding Charging Your Welding Helmet:
If you are looking for a healthy investment, go for solar-powered welding helmets, as you can charge your helmet while using it too. This will save not only your time but also your money. Providing you a stress-free environment to work. Besides, the fact that solar-powered welding helmets are automatic and require no turning on and off gives this type of bonus points. Not just newbies but popular professional welders also look for this type. How you have been storing your helmet also somehow decides the charging capacity of your helmet. So be easy and gentle with your helmets as they are your only saviors in the welding field.
Guide: How to clean welding helmet lens
Things To Consider For A Good Welding Helmet Charging Experience:
Buying replicable batteries should be the top priority
Just make sure you got some spare batteries stored as a backup too
In case you don't have replaceable batteries, opt for helmets with a worthy warranty
Always follow the guidelines and SOPs
Monitor the batteries from time to time while charging
Overcharging can cause heat and damage your helmet
Don't forget to turn on the auto-off button
Related: How to Weld Cast Iron
Conclusion:
As technology has been making remarkable advancements in this modern era, it is becoming extremely important that you are aware of the latest adaptations and requirements of the machines you are dealing with. The welding helmet is ultimately the only thing protecting you from any potential harm therefore it is extremely important for you to know how to wear, use, charge, and later store that welding helmet. Always look for replaceable standby batteries.
Lastly, as discussed earlier, the charging time for each helmet may vary from type to type so it is essential that you maintain patience during this time.
My Name is Louis with a welding experience of 9 years in all types of welding processes. Especially I have good expertise in MIG, TIG & Arc welding processes. Read more about me….