Tacklife PAH04D Welding Helmet Review 2022
BestWeldingHelmets.net is reader supported. If you click a link on this page, then go on to make a purchase, we might receive a commission at no cost to you.
Last Updated: February 14, 2022 by Louis Sham
Durability and protection is a rare combo that you will find in a welding helmet. Luckily this deadly combination could be found in the TACKLIFE PAH04D welding helmet.
PAH04D welding helmet possesses out-class features that give you a superior level of protection plus its quite durable that you won't have to think about purchasing a new welding helmet for years.
And it's because this welding helmet belongs to the house of TACKLIFE which has been manufacturing protective equipment for ages.
Worth mentioning part here is, all products of TACKLIFE meet quality, and safety standards such as PAH04D welding helmets meet the ANSI Z87.1+ and EN 379.
If you are curious to know more about the Tacklife PAH04D welding helmet stick to this article. Because Tacklife pah04d review will blow your mind.
Tacklife PAH04D Welding Helmet Review
As an affiliate, we earn from qualifying purchases. We get commissions for purchases made through links in this post.
Specifications:
Viewing Area: 3.86 X 1.69 inches
Weight: 2 pounds
Optical clarity: 1/1/1/1
REACTION TIME: 1/25,000 second
Shade range: 3/4 -8/9-13
Sensor: 4 premium arc sensor
Material: polyamide-nylon
Operating mode: weld, cut and grind
Adjustable sensitivity and delay control
Solar and battery operated
Compatible with cheater lens/magnifying lens
ANSI Z87.1+ and EN 379 compliant
Pros
Offers the best protection to your eyes
Can be used for different purposes
Comfortable and convenient
Easy to use
Cons
Knobs can be damaged easily
Tacklife PAH04D Design: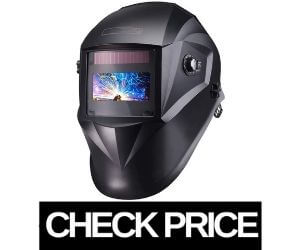 Tacklife PAH04D welding helmet is quite durable in its self. But don't think that it would be heavy. It is made up of high impact polyamide nylon which is one of the best materials that is used for a welding helmet.
Nylon has not only made PAH04D light in weight but also it is quite durable. The best part about this welding helmet is, it is wear-resistant.
Yes upon falling or handling carelessly, its hood won't get damage at all.
Talking about its weight, it is as light as feather, so that you can work for long hours without feeling any neck strain.
If you check the inside of the hood, you will see padded cushion all around the helmet. Cushion is breathable which won't lead any itching on your scalp.
Besides this, the headgear is completely adjustable. You can adjust it according to your head size.
A combination of adjustable headgear and padded interior gives you a high level of comfort while welding.
Viewing Area:
Tacklife PAH04D features a quite big viewing window which will allow you to focus on your work properly. ]Window is 3.86 x 1.69 inches big which gives you the freedom to look all-around your work station without lifting the helmet.
Auto Darkening Filter:
It's useless to wear a helmet without an auto-dimming filter.
PAH04D features an outstanding auto-darkening filter, which is baked by 4 premium arc sensors. These sensors are located right on the viewing window so that it can easily detect any arc or flash.
Lens is so responsive that your eyes have got no chance of being damaged. It takes only 1/25,000 seconds to switch from light to dark shade upon detecting any arc.
Auto darkening lens of the Tacklife PAH04D welding helmet possesses the optical clarity of rating 1/1/1/1 which is simply awesome. You can see the actual color in a true tone without any image distortion.
Tacklife PAH04D UV/IR Protection:
Arc flash or sparks that produced during the welding process possesses UV and IR rays, which are extremely dangerous for the eyes.
Tacklife PAH04D features UV and IR protective ADF lens, which blocks the UV and IR rays and gives complete protection to your eyes. By choosing the shade 16 or DIN 16 you are filtering all UV and IR rays.
PAH04D welding helmet gives efficient protection against UV and IR rays, it gives ≤0.00002% UV transmittance, whereas it gives ≤0.03% IR transmittance.
Adjustable Sensitivity & Delay Control Setting:
Sensitivity and delay control is the prime feature of any welding helmet. Sensitivity control is really helpful when you are welding at low amperages such as TIG.
PAH04D welding helmet features adjustable sensitivity and delays control function. You can adjust them according to the type of welding process you are doing.
For instance, you can set a longer delay time when you are welding at high amperage. It is because molten metal still emits harmful rays until it cools.
But if you are in a hurry, you can choose the short delay time as it will get the job done faster.
Guide: How to Clean Welding Helmet Lens 2021
Tacklife PAH04D Welding Helmet is use for;
Personally, I always recommend those products that can be used for more than single jobs.
Fortunately, the Tacklife PAH04D welding helmet can be used for various other purposes which include cutting, grinding, and welding, of course.
As far as welding is concerned so it can be used for following the welding process;
MIG/MAG
TIG/TAG
MMA
Stick welding
Plasma cutting
What I like:
TACKLIFE PAH04D welding helmet is really very safe and protective for eyes and it's all because of its outstanding auto-darkening filter which also filters out harmful UV and IR radiation.
I would not be wrong if I say that Tacklife gives complete protection o your eyes.
Furthermore, it is a multipurpose helmet that can be used for different purposes.
You don't have to take it out only when you are welding. You can use it during cutting and grinding purposes. Since these jobs also require lots of eyes and face protection.
Tacklife PAH04D is quite convenient to use. Its knobs are located outside the hood. So this saves your time. You don't have to put off the helmet to change the setting. You can easily operate it while wearing the helmet,
What I Don't Like:
Since its controlling knobs are located outside the hood. In my opinion, it will be difficult to operate the knob while wearing hand gloves you will have to put off the gloves to adjust some settings.
Also, for a person like me who has buttered fingers, exterior setting knobs are quite risky.
But if you handle it carefully, it's the best feature of the Tacklife welding helmet. This will save your time and increase your productivity.
Conclusion:
Tacklife welding helmet features mind-blowing visibility that makes your welding and cutting job easier. PAH04D is quite durable and light in weight that you can work for extended hours without any neck fatigue.
Unlike other welding helmets it is worn, flame, and corrosion resistant as it instead of polypropylene it is made up of nylon.
I would say it is the best investment that you can make in your welding and cutting business as you won't have to worry about replacing this welding helmet for a longer time.
So buy the Tacklife PAH04D welding helmet without even thinking for a second.
CHECK PRICE ON AMAZON
My Name is Louis with a welding experience of 9 years in all types of welding processes. Especially I have good expertise in MIG, TIG & Arc welding processes. Read more about me….