Dekopro Welding Helmet Review 2022
BestWeldingHelmets.net is reader supported. If you click a link on this page, then go on to make a purchase, we might receive a commission at no cost to you.
Last Updated: February 16, 2022 by Louis Sham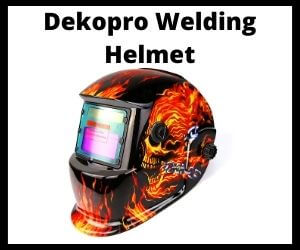 DEKO has been manufacturing user-friendly and safe tools for home users and tool enthusiasts for years. Their agenda is to provide high performance and low-cost products. That's what is depicted in its name. DEKO is an acronym of Designated for Extra-ordinary Kindness Only. They do so, by introducing advanced, unique yet budget-friendly welding helmets for welders.
DekoPro Welding helmets are considered as the best welding helmets. They are the helmets that have been appreciated and recommended by the professional welders.
If you are tired of using boring single color welding helmets, then DekoPro is the best option for you.
It features a unique flaming skull print all over the hood, which makes it quite different from the other welding helmets.
Getting curious to know more about it, stick to this article.
You will get to know more about it, just scroll down and see Dekopro welding helmet review.
Dekopro Welding Helmet Review 2021
As an affiliate, we earn from qualifying purchases. We get commissions for purchases made through links in this post.
FEATURES AND SPECIFICATIONS: 
Viewing Area: 92.5X 42.5 mm
Weight: 1 pound
Optical clarity: 1/2/1/2
reaction time: 0.00004 second
delay time: 0.1 – 1.0S
Shade range: 4-9-13
Sensor: 2 arc sensor
Material: polypropylene
Operating mode: weld and grind
Solar and battery operated
Meets ANSI Z87.1-2010, EN 379
Pros
Unique and attractive design
Super light in weight
Improves visibility and gives better clarity
Cons
Grind mode knob is difficult to use with gloves
Deko Welding Helmet Unique Look: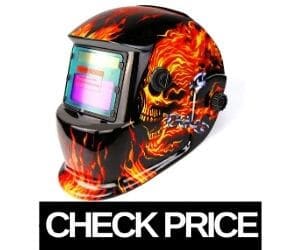 For your friend who likes colorful and funky stuff, the Deko welding helmet could be the best option. It looks like an actual welding helmet but its color and graphics are super amazing. Talking about the flaming skull variant of Dekopro, it has a base color black with a skull that is one fire all over the hood.
This makes it way too different from the other welding helmets.
There are also other variants available. If you don't like skull version, you can choose a blue eagle design.
But if you like decent and sophisticated colors, then DekoPro is also available in black color.
Amazing Eye Protection:
Dekopro welding helmet uses an auto-darkening lens filter which gives superior eye protection. The lens filters out all the UV and IR rays and let only harmless rays to pass through the lens. This way your eyes will remain protected from any kind of damage.
Auto-darkening lens is powered by 2 arc sensors that are located outside the viewing area; these sensors are the real player of auto-darkening welding helmets.
These super-responsive sensors detect any spark around your face and as soon as they do so, the lens quickly switched from the light shade to dark shade. You will be amazed to know that it requires only 0.00004 seconds from switching to dark shade. The lens remains in the dark shade as long as the welding arc is striking. This way welder's eyes will no longer experience any eye strain.
Deko Welding Helmet Optical Clarity:
Dekopro welding helmet features 1/2/1/2 rating of optical clarity. The optical clarity is really very important feature in order to have less distorted and blurred vision.
Professional and experienced welders who have used 1/1/1/1 optical clarity rating lens may find a huge difference between image quality while using the Dekopro welding helmet.
But newbie or hobbyists cannot feel image distortion in the Dekopro welding helmet.
In simple words, the Deko welding helmet does not have the highest optical clarity rating which can be felt by experienced welders only but not by amateur welders.
Deko Welding Helmet Shade Range:
Just like other auto-darkening welding helmets, Deko also features shade ranges which are adjustable. You have the option of shade 4-5 and 13. In which 13 is the darkest shade which you will experience when the arc is stricken, whereas 5 is the lightest shade.
These shade ranges are for welding purposes. But when you are on grinding mode, the lens will be automatically set on shade 4, which is a neutral shade with no light or dark effect.
Also, when the helmet is not in use its on shade 4 by default.
Lightweight & Comfortable:
So when it comes to weight, Dekopro has beaten the other welding helmets. It weighs only 1 pound.
Wow!
You can easily wear Deko for a long job without any neck pain or fatigue.
All thanks to its hood material, which is polypropylene or PP.?
PP is one of the most protective and environmentally safe materials for the welding helmet. It is lightweight and flame retardant.
Not only this, but it is also environmental-friendly too. So this DekoPro welding helmets have high recyclability and less environmental footprints.
Talking about the comfort of the user, it features an adjustable headgear with a ratchet tightening system. The hood size is adjustable so it can easily fit to head of all sizes.
Guide: How to change battery in a welding helmet 2021
Dekopro Welding Helmet can be used for:
Versatility is the most important advantage of a welding helmet. If you find a welding helmet that can be used for jobs other than welding, simply go for it.
Luckily, the DekoPro welding helmet can be used for welding as well as grinding jobs. There is a dedicated grind on/off knob which is located outside the helmet so that you can switch to grind mode without putting off your helmet.
When it comes to welding, options are unlimited. Deko welding helmet can be used for the following welding processes:
MAG/CO2
TIG/TAG
MMA
Plasma welding
Arc gouging
Plasma cutting
WHAT DID I LIKE ABOUT DEKO WELDING HELMET?
Being light in weight is a million-dollar feature of Dekopro welding helmet. People look for lightweight and cost-effective welding helmets that do not cause neck strain and even pocket strain. LOLS!
It's all because of its material.
Secondly, I really like the flaming skull design. It looks cool and attractive, especially for hobbyists and DIY-ers it is a great choice.
DekoPro gives better protection to eyes and face with better visibility.
WHAT DIDN'T I LIKE ABOUT DEKO WELDING HELMET?
As such, there isn't any worth mentioning flaw about DekoPro except one. The grind knob is situated outside the hood, which is a good thing indeed. But if you are wearing gloves, you will find it difficult to operate. In the middle of your work, either you will have to put off your gloves to turn on/off grind mode or you have to ask someone to do it for you.
Rest, everything is perfect.
SUMMARY:
With a fascinating auto-darkening mechanism, the DekoPro welding helmet gives superior protection to your eyes and face. I assure you this helmet will also increase your productivity. It's light in weight and fits perfectly on everyone's face.
Dekopro is the welding helmet that is recommended and endorsed by the professional welders. After all, DekoPro has never disappointed its user.
Mark my words, you will truly love Deko welding helmet.
My Name is Louis with a welding experience of 9 years in all types of welding processes. Especially I have good expertise in MIG, TIG & Arc welding processes. Read more about me….