Jackson 46131 Welding Helmet Review 2022 – Fresh Air
BestWeldingHelmets.net is reader supported. If you click a link on this page, then go on to make a purchase, we might receive a commission at no cost to you.
Last Updated: November 2, 2022 by Louis Sham
Welding means war with sparks, flashes, and glares. This war becomes a thrilling activity if you wear a welding helmet. A proper welding helmet gives extended coverage to your face and neck so that they will be protected from the harmful attacks of sparks and glares. Jackson safety 46131 is one such kind of welding helmet that also protects your eyes from high-intensity sparks, as it features auto-darkening filters.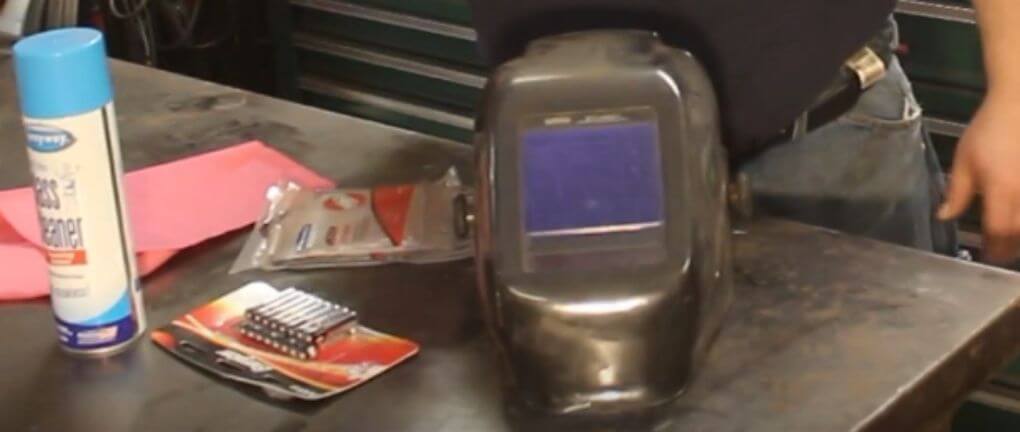 Jackson Safety has numerous auto-darkening welding helmets, but we have chosen Jackson 46131 welding helmets. The reason is its features. Let's have a detailed look at its worth discussing features.
Jackson 46131 Welding Helmet Review
As an affiliate, we earn from qualifying purchases. We get commissions for purchases made through links in this post.
Specifications:
Viewing Area: 3.93 X 2.36 inches
Weight: 1.25 pounds
Reaction time: 1/25,000 seconds or 0.00004 seconds
Shade range: 9-13
Sensor: 4 independent auto-dimming sensor
Material: polyamide nylon
Grind mode and weld mode
Easy to use digital control
Delay control and sensitivity control
CSA compliant
Pros
Comfortable headgear
With auto-darkening filter
A wide and clear viewing area
Who is Jackson:
If you ask me about the top-notch welding helmet brand, I will point out Jackson's safety. Jackson Safety is a division of Kimberly-Clark Professional, which is providing safety and protection to professional workers from all walks of life.
They offer a wide variety of welding helmets, including passive helmets and auto-darkening helmets. Apart from this, the replacement part of the helmet is another segment in which Jackson safety is serving. It would not be wrong if I say that providing innovative safety solutions with unparalleled features is the prime mission of Jackson Safety.
Balder Technology:
Innovation is the key ingredient of Jackson's safety welding helmet. You will find a new technology in Jackson 46131 welding helmet that is Balder technology. Its auto-darkening welding filter utilizes optoelectronic elements that are produced by Balder, which produces a high-end film optical filter.
ADF filters of Balder technology have got the highest optical rating with the best classification for angular dependence. Technology is simply amazing, because of which you will experience a 1/1/1/1 optical rating. It means while using it, you will be able to see objects at different angles with crystal clear vision. This way you can do your work in the most creative and productive way.
Jackson Fresh Air Welding Helmet Material: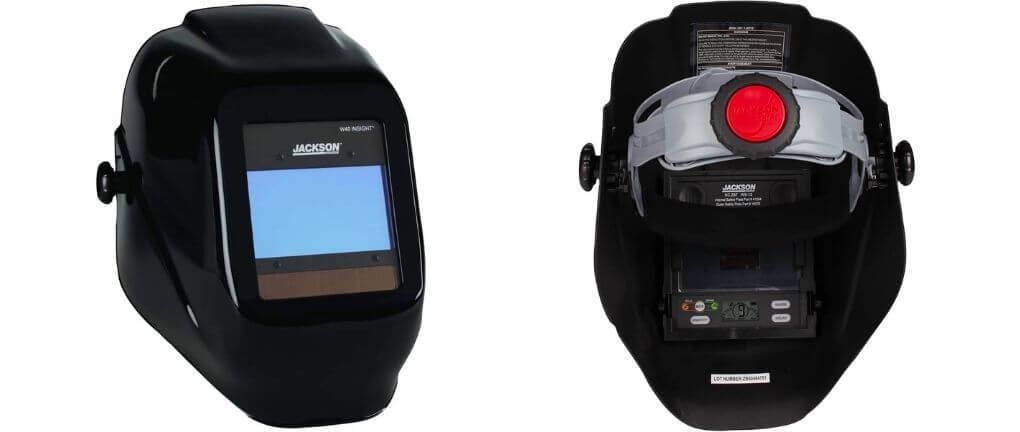 Hood is made up of polyamide nylon which is one of the durable and robust helmet materials.  Flexible hood material is shockproof too. Polyamide nylon is the ideal material that is used for a welding helmet and the reason behind this is, it is very light in weight. Jackson 46131 welding helmet weighs only 1.25 pounds and its all credit goes to its flexible and shockproof material.
Viewing Area:
Jackson 46131 has got a quite large viewing area which is 3.93 X 2.36 inches. I assure you that this large viewing area is more than enough for you. You will be able to see a wide working area without even adopting an awkward posture.
Lens Performance:
What we have learned from the in-depth research about Jackson 46131 welding helmet is, it performs really very well.  Its outclass lens is equipped with innovative auto-darkening filters. Lens has a variable shade range which is from 9 till 13. So depending upon your welding type, you can choose the shade range. Also, the lens is equipped with delay and sensitivity control features. You can adjust these parameters with the help of a digital control pad that you will find inside the helmet.
Jackson W40 Auto-Darkening Filter:
Jackson 46131 is equipped with an auto-darkening filter. This filter works with the help of a 4 arc sensor that is there above the viewing area. These sensors are of extreme importance, as they will sense any weld arc and darken the view according to the shade chosen by the user.
Worth mentioning point about Jackson safety 46131 welding helmet is, you can use its auto-darkening filters in other models of Jackson safety welding helmet. Yes, it is compatible with the hoods of HSL 100 and HXL 100. Auto-darkening filters are a great addition to welding helmet as it makes them versatile. You can use a single welding helmet for multiple types of welding processes like TIG, MIG, stick welding.
JacksonW40 Safety and comfort:
Safety and comfort factors go side by side in any welding helmet. Jackson 46131 helmet is really very comfortable to wear. First of all, it's light in weight and secondly, its adjustment is very easy. All thanks to its 370 headgear, which is one of the most durable headgears in the industry. 370 headgear can be easily identified with the help of its distinctive logo on the adjustment dial. Headgear has three position sliders that help you to adjust it.
Besides this, it has crown strap adjustment which is meant to raise or lower the helmet. And trust me; adjusting is as easy as ABC. Jackson 46131 welding helmet promises to give full protection to its users. It gives extended coverage to your neck and face and this way they will be protected from the harmful effects of UV rays. Not only UV rays, but it also protects your nose and eyes from the dust and debris that result during the grinding process.
Jackson 46131 welding helmet can be used for:
It's good to be multipurpose and versatile. That's my philosophy. And luckily Jackson safety 46131 is one of the versatile welding helmets. It is not only a welding helmet but also it's a helmet that can be used during the grinding process as well. Because of its variable shade range, you can use it during different welding processes such as:
What did I like about Jackson W40?
Auto-darkening filters that are made up of using Balder technology are the competitive advantage of the Jackson 46131 welding helmet over others. It uses 4 well-placed arc sensors that are within 0.00004 seconds since the arc and darkens the view to protect the eyes. It is simply amazing. Headgear is really very comfortable which I found while using it. You won't even feel as if you have fixed something on your head. It can be used with other models of Jackson safety welding helmets.
What I don't like about Jackson W40?
We noticed that they might have used flimsy nylon polyamide. It is not at all durable. And I think that's the reason its ADF and headgears are detachable so that you can use it with other hoods of the same brands.
Summary:
Jackson 46131 welding helmet is packed with innovative safety and protection features. With amazing auto-dimming features and comfortable headgear, it becomes one of the top choices of most professional workers. Indeed it's a well-priced welding helmet that gives you superior protection cum comfort level.
My Name is Louis with a welding experience of 9 years in all types of welding processes. Especially I have good expertise in MIG, TIG & Arc welding processes. Read more about me….